New trains to modernise Czech rail freight will create jobs, improve the accessibility of remote regions—and cut emissions
Tomáš Tóth believes that the Czech Republic is on track to become one of the largest freight transporters in Europe. With long experience in the railway sector, he is helping ČD Cargo to make this happen. "I have devoted my life to studying ways to improve the Czech railways," says Tóth. "Now, as the Chief Executive Officer of ČD Cargo, I felt it was time to do something big, to bring my country's railway sector into the 21st century."
The Prague-based company transports goods to thousands of locations in the Czech Republic and other locations across Europe. What makes ČD Cargo stand out from its competitors is a focus on accessible and—most importantly—greener services.
"We want to expand our locomotive fleet by acquiring 50 electric locomotives and 140 freight intermodal wagons as well as to modernise around 310 older locomotives," says Tóth. "This change will not only improve the quality and capacity of freight service, but also have a positive impact on the environment."
The European Investment Bank is supporting ČD Cargo's ambitions with a €130 million loan signed in December 2020. This financing will help the company expand its operations and develop a fleet that can operate on rail lines across Europe.
Czech rail freight overcomes borders
One of the main priorities of ČD Cargo is to connect the Czech Republic with the rest of Europe. Bordered by Poland, Slovakia, Austria, and Germany, the Czech Republic's central position makes it a strategic transport hub. But there is a crucial obstacle to this goal: trains from one European country cannot always operate in another.
Historically, European countries have used different systems to control the safe movement of trains. "Each European country uses different railway infrastructure and regulations," says Tóth. "This makes the cross-border transport of goods especially difficult, complicated, and costly."
That is why ČD Cargo wants to acquire wagons and locomotives that are 'interoperable' and equipped with European Train Control System (ETCS). "Interoperability enables the harmonisation of the technical parameters and operational procedures between one railway network and another," explains Tóth. "This technology allows ČD Cargo's locomotives to operate in foreign countries without any issues and expand its services to many new locations."
EIB supports the modernisation of railways in Czechia
ČD Cargo aims to modernise its locomotive fleet. "This requires access to a constant flow of large funds," says Tóth.
The European Investment Bank is helping ČD Cargo expand and modernise its locomotive fleet by providing a long-term CZK 3.43 billion loan (equivalent to €130 million). "I believe the European Investment Bank is offering flexible and competitive financing package," says Jan Morawiec, a loan officer at the EIB.  "We offer a longer availability period and better pricing conditions that do not place additional pressures on companies."
With the EU bank's support, ČD Cargo can improve its competitiveness in the growing railway transport market. "The favourable terms of the EIB loan will allow ČD Cargo to invest in its future," says Robert Heděnec, ČD Cargo's Chief Financial Officer.
How rail can transport us to a greener future?
it consumes less energy and has lower emissions than other modes of transport
it is the safest mode of land transport
rail freight is much more efficient in terms of space than road freight, as a single train replaces 50 truckloads of traffic.
it connects regional and international centres by transferring goods and services between different modes of transport
it promotes socio-economic and territorial cohesion by connecting regions and countries
Rolling green and just transitioning in the Czech Republic
By shifting the transport of goods from roads to railways, ČD Cargo will pave the way for greener and improved services in the Czech Republic. "Using electric locomotives is in itself green," says Tóth. "But our operation will also result in reduced vehicle use and will thus contribute to the Czech Republic's transition to a more environmentally friendly economy."
A modernised locomotive fleet, equipped with ETCS, will also improve freight transport to previously less accessible regions. "This will improve freight connectivity of the Czech Republic with the rest of Europe," says Maja Rogińska, a senior transport economist at the EIB.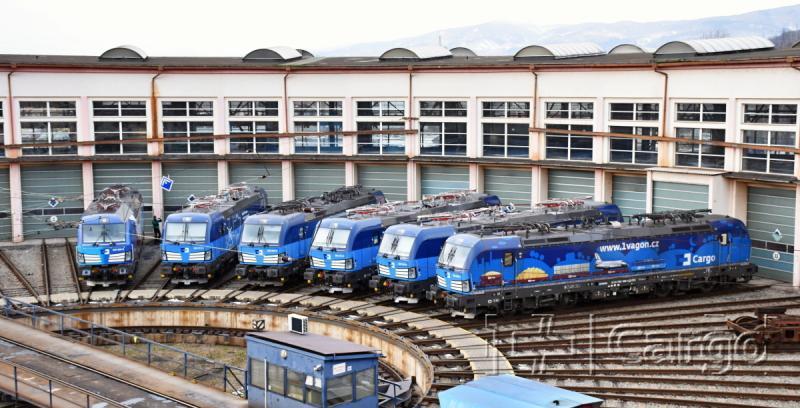 It should also help create more jobs. "We aim to expand our operation to six neighbouring countries and receive goods from many more," says Heděnec. "This will generate a lot of business and employment opportunities in the region of Ostrava, which suffers from high unemployment rates."