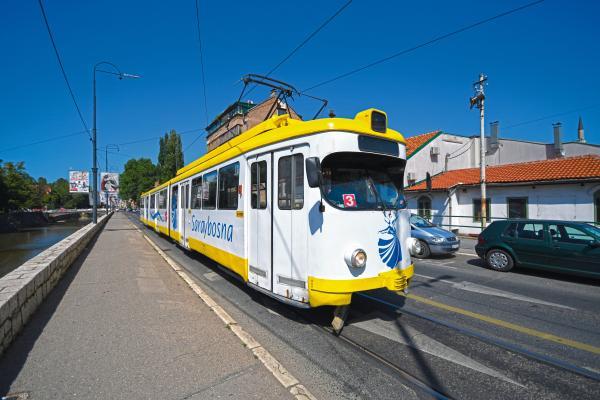 The Ministry of Transport of the Canton of Sarajevo and Stadler Rail AG today signed a contract for the procurement of 15 trams to replace an existing obsolete tram fleet. The signature ceremony was attended by representatives of the local government, the Swiss embassy and the contractor Stadler, as well as the European Investment Bank (EIB) and European Bank for Reconstruction and Development (EBRD). These two banks are financing this project to improve the urban transport network in the Canton of Sarajevo through modernisation of the tram and trolley bus networks, replacement of existing vehicles and construction of new roads. 
The EIB has already allocated €40 million under favourable terms in 2021 for this important operation that will help tackle some of the issues that the people of Sarajevo face on a daily basis — air pollution, traffic congestion and safety. More efficient and reliable public transportation will enable a shift from private to public transport modes among passengers, delivering multiple benefits for the quality of city life and the environment alike.
The EIB representative for Bosnia and Herzegovina and Montenegro Sandrine Friscia made the following comment at the event: "We are glad to see EIB investments are directly changing people's lives for better. New trams will help reduce commuting times and the number of traffic accidents, thus improving living conditions for everyone. At the same time, they will lower the level of noise and pollution in the city, which will bring us closer to fulfilment of the EU Strategy for the Western Balkans and the EIB climate goals. As the EU climate bank, we want to help the region shift to more sustainable transport options, resulting in a cleaner environment and the capability to mitigate climate changes more efficiently."
To date, the EIB has invested €1.6 billion in the modernisation of transport infrastructure in Bosnia and Herzegovina, contributing to the construction of modern and safer roads, primarily along the Corridor Vc.
Background information
About the EIB in Bosnia and Herzegovina:
The EU bank has been active in the territory of Bosnia and Herzegovina since 1977. To date, it has invested €3.1 billion, mostly in the transportation sector and small and medium enterprises.
About the EIB in the Balkans:
The EIB is one of the leading international financiers in the Western Balkans. Since 2009, the Bank has financed projects totalling over €8.6 billion in the region.
The European Investment Bank is active in around 160 countries and is the world's largest multilateral lender for climate action projects. The EIB Group has recently adopted its Climate Bank Roadmap to deliver on its ambitious agenda to support €1 trillion of climate action and environmental sustainability investments in the decade to 2030 and to provide more than 50% of EIB finance for climate action and environmental sustainability by 2025. Also under the Roadmap, from the start of 2021, all new EIB Group operations will be aligned with the goals and principles of the Paris Agreement.