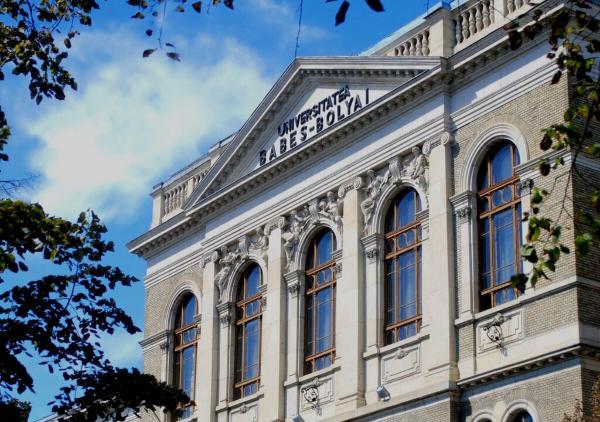 New investment to transform academic and student facilities at leading Romanian university
About 49,000 students and about 4,000 staff to benefit from improved research facilities and offices
Investment in energy efficiency to cut energy bills and carbon emissions
EIB financing backed by European Fund for Strategic Investments
Students, research, and staff at Babes Bolyai University of Cluj-Napoca (UBB) - Romania's largest university and a flagship academic institution, part of the EUTOPIA European University Alliance - will benefit from campus investment backed by a new EUR 35 million loan from the European Investment Bank confirmed today.
The new 25 year long-term financing represents the largest ever EIB support for higher education investment in Romania and the third university loan in the country backed by the European Fund for Strategic Investments.
Babeș-Bolyai University also benefitted from technical and financial advisory support provided by the European Investment Advisory Hub, a joint initiative of the EIB and the European Commission. EIB experts and external consultants provided the University with a comprehensive package of advisory support, facilitating the preparation of a sound investment proposal and accelerating its access to finance.
Babeș-Bolyai University also benefitted from EIB's Advisory Services support in the form of financial advice and preparation for EIB's due diligence.
"With its origin in 1581 (Academia/Universitas Claudiopolitana), Babeș-Bolyai University has a unique track record of world-class research, education, and (innovative) relation to society. The new EUR 35 million long-term financing from the European Investment Bank will build on our strengths and benefit present academic community, future generations of students, and society at large. Beyond this more general impact, the development of InfoBioNano4Health Platform will also support a smart specialisation development, fundamental for the competitive advantage of Cluj-Napoca/Transylvania/Romania, and even Europe, at the international level." said Professor Daniel David, Rector of Babeș-Bolyai University.
"The European Investment Bank is committed to investing in education and research facilities as they directly contribute to the European knowledge economy. Redevelopment of the Babeș-Bolyai University campus will enhance student education, strengthen research and accelerate innovation in Romania and Europe." said Christian Kettel Thomsen, European Investment Bank Vice President.
Professor Sorin Cîmpeanu, Minister of Education, pointed out that "Education is crucial in providing efficient responses to current and future challenges. I strongly believe that investing in universities we can contribute to the growth of the Romanian economy as well as to the implementation of the green and digital transitions. The European Investment Bank is a key partner for the Romanian higher education sector and backing the largest Romanian university plays a significant part in making an educated Romania."
New investment to strengthen research/innovation and upgrade academic offices
The new investment will strengthen research and innovation; upgrade and expand the environmental sciences and engineering as well as mathematics and informatics-computer science infrastructure and teh faculties;  increase teaching space and academic offices; and upgrade buildings across the campus. Babeș-Bolyai University's InfoBioNano4Health Platform is the main beneficiary of the support, focusing on using computer science (e.g., AI/Big Data/Quantum Computing/Cybersecurity/Blockchain/Virtual-Augmented Realities), life sciences, biotechnologies, nanosciences and nanotechnologies for both human and environmental health.
Building on EIB support for university investment across Romania
The latest European Investment Bank support for the higher education investment in Romania follows recent backing for campus investment at Bucharest Medicine University, Cluj Technical University, and Bucharest Polytechnic University.
Last year the European Investment Bank Group provided EUR 907 million for new investment across Romania.
Over the last 31 years, the EIB Group has provided more than EUR 18 billion for public and private sector investment across Romania.
The European Investment Advisory Hub (EIAH) is a partnership between the European Investment Bank Group and the European Commission under the Investment Plan for Europe. The EIAH is designed to act as a single access point to various types of advisory and technical assistance services. It supports the identification, preparation and development of investment projects across the European Union. Building on the success of the EIAH and other advisory programmes, the EIB and the European Commission agreed to provide technical, financial and strategic expertise to project promoters, regional and national authorities, and financial intermediaries under the InvestEU Advisory Hub.