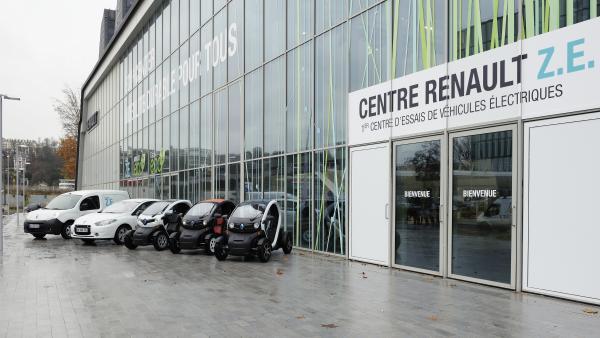 The European Investment Bank (EIB) recently granted a EUR 180 million loan to the Renault Group to contribute to R&D for a new generation of batteries and motors for electric vehicles. This is a large-scale project in technological and environmental terms, to which the Bank adds value through its technical and financial expertise. EIB Vice-President Philippe de Fontaine Vive and Dominique Thormann, Financial Director of the Renault Group, today signed the financial partnership agreement at the Renault Group's headquarters in Boulogne-Billancourt (France).
This loan will be deployed in France to develop future generations of motors for electric vehicles, so helping to develop extensive expertise in products and processes for lithium-ion batteries and engine technologies for electric powertrains. The main objective is to make electric vehicles more competitive and ultimately speed up the development of a mass market. Lowering consumption of CO2 emissions and other harmful pollutants is also at the heart of this research programme, with a potential annual reduction of more than 150 000 tonnes of CO2 compared to vehicles fitted with conventional engines.
"We support leading-edge technologies since they shape the future in terms of sustainable development and competitiveness", remarked EIB Vice-President Philippe de Fontaine Vive at the signing ceremony. "This cooperation will enable us to prepare together the future of the motor industry in Europe, whose citizens will be the first to benefit in their day-to-day lives".
This loan continues the quality partnership established between the EIB and the Renault Group. In 2009, the Group received a EUR 400m loan from the EIB for its research, development and innovation (RDI) activities aimed at optimising and increasing the efficiency of conventional powertrains and developing wholly electric vehicles.
This loan also underscores the Bank's tangible commitment to supporting innovation in the areas of transport and industry. Recognising the strategic importance of this sector, the EIB decided in December 2011 to launch a new policy to support transport in Europe. Fully in line with the European Commission's White Paper on Transport adopted on 28 March 2011, this new policy aims to further the development of efficient, sustainable transport in Europe, thereby helping to reduce the dependence on oil and improve the competitiveness of European industry.