Company replaces traditional polyester stitching threads with heat-dissolvable threads to facilitate recycling of clothes
The Atacama Desert in Chile has become an open-air graveyard for unwanted clothing from around the world with many garments still unworn and bearing their price tags.
"Every second, a truck full of textile waste is dumped somewhere on the globe," says Rawaa Ammar, chief sustainability and impact officer for the Belgian startup Resortecs.
The technology to recycle used textiles and turn them into new garments already exists. The problem is "pre-recycling". Garments are difficult to disassemble. To recycle a pair of jeans, for example, the denim must first be separated from the zipper, the button, the studs, the label.
Cédric Vanhoeck, co-founder of Resortecs, studied industrial design engineering and fashion design until he dropped out of school to start experimenting with ways to apply active disassembly principles to textiles.
This means "changing joints like a screw to allow it to lose its screwing principles and make products fall apart without manual interference," Vanhoeck says.
In 2017, Cédric and his friend Vanessa Counaert founded Resortecs. Since then, the start-up has pioneered a thermal disassembly system for clothing, along with two patented innovations.
Picking clothes apart by the thread
Mechanical disassembly is an unsatisfactory option because shredders destroy the cloth, and the secondary material must be recycled despite a drop in its quality. Manual disassembly is slow and often prohibitively expensive.
Cédric's solution was to replace traditional polyester stitching threads with a range of heat-dissolvable threads that melt at temperatures from 150o to 190oC, depending on the fabric.
When heated at the right temperature, a garment simply falls apart at the seams, ready to be sorted and recycled. The trick was finding the sweet spot: temperatures low enough so that melting the threads wouldn't destroy the textiles, yet high enough so that a garment could go into the dryer or be ironed without disintegrating.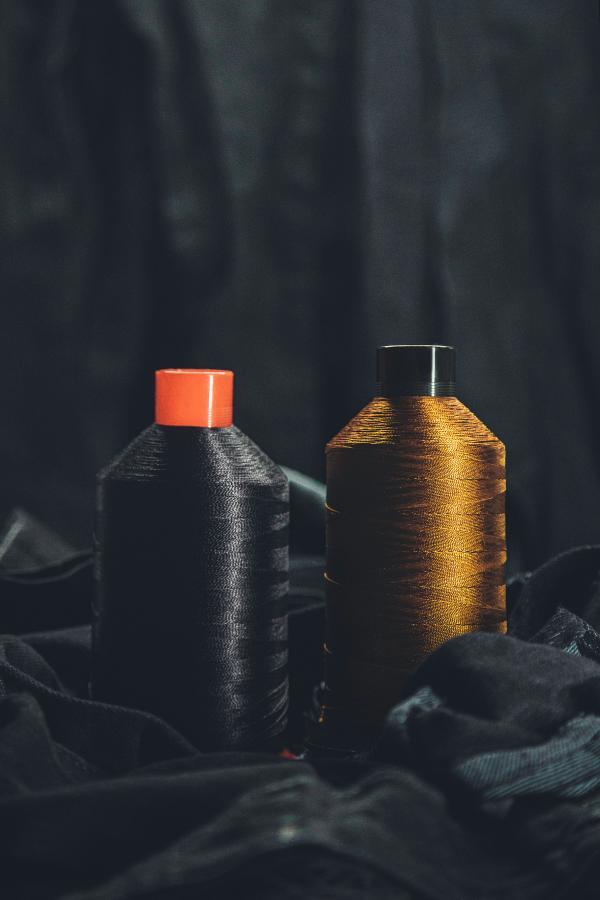 Resortecs has the patent for two other innovations. First, there are the stitching threads, Smart StitchTM, which fashion brands and manufacturers can buy to sew their garments together.
Then there are the ovens, Smart DisassemblyTM, used to dismantle end-of-life goods made with the threads. The ovens are effective at an industrial scale, preserving heat and recovering energy in a closed-loop system.
Getting their products to fashion brands
Resortecs' proceeds from the stitching threads cover the disassembly costs, so sorters and recyclers don't have to pay to operate the ovens. Fashion brands own the disassembled material, such as high-quality cotton or polyester, which are increasingly in demand.
They can sell the material to the recyclers or reuse it themselves in brand new garments.
Fashion brands never really had to deal with sorters or recyclers before.
Now, as  global economies transition from linear to circular, they are increasingly receptive to Resortecs' products and expertise.
According to Rawaa, "brands are not circular savvy. They know about sustainability, and can manage materials, but they haven't managed supply chains up until now.
So while Resortecs' idea—threads that melt—seems so simple, the potential impact on the value chain is huge. Resortecs is the missing link in the circle. As Cédric notes, "it is really a supply chain risk management tool more than a stitching thread."
Textile waste consumes enormous quantities of raw materials and water, uses hazardous chemicals, and generates up to 10% of global greenhouse emissions.
An externally reviewed life cycle assessment showed that adopting Resortecs' solution and coupling it with effective recycling can lower a denim garment's CO2 footprint by up to 50%. For every pair of jeans that is recycled and made into a new one, water use can be reduced by about 3 000 litres.
Resortecs was one of the 2022 finalists in the European Investment Bank Institute's Social Innovation Tournament, which supports entrepreneurs making a social, ethical or environmental impact.
Expanding collaboration with famous fashion brands
Inditex produced a denim collection with Resortecs threads for the Bershka brand in the summer of 2022.
Laura Dominguez, a designer for Bershka, says that "starting the design process already thinking of the second life of our product, as well as having the chance to work with innovative techniques and materials, is a very challenging process. We are really liking the results with Resortecs."
Also in 2022, Resortecs worked with Decathlon's Wedze on recyclable ski jackets, which are particularly complex, multi-material garments.
This year and in 2024 the company is scaling up, discussing off-take agreements with other major fashion players looking to implement its process at scale­­­­.
By 2040, Resortecs hopes to help reduce CO2 emissions by 40 billion metric tons. The start-up's ultimate goal, says Cédric, is nothing less than "to become the new benchmark in the fashion industry."