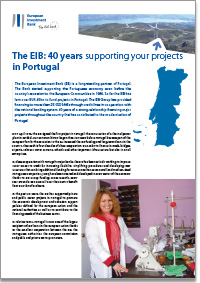 Description
The EIB is a long-standing partner of Portugal.
The Bank started supporting the Portuguese economy even before the country's accession to the European Communities in 1986. So far the EIB has lent over EUR 45bn to fund projects in Portugal.
The EIB Group has provided financing to more than 25 000 SMEs through credit lines in cooperation with the national banking system. 40 years of a strong relationship financing major projects throughout the country that has contributed to the modernisation of Portugal.