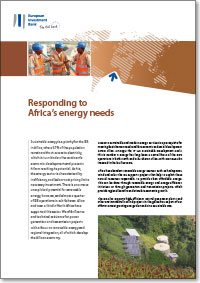 Description
Energy shortages across the African continent remain a significant challenge to its economic development, but the potential for renewable electricity generation is enormous. The EIB prioritises investment in clean generation and efficient transmission projects.
Whether small or large, these initiatives are designed to bring affordable electricity to more people, in line with the Sustainable Development Goals.
The Bank has several instruments to invest in energy projects, and all of them are designed to promote economic growth in Africa.