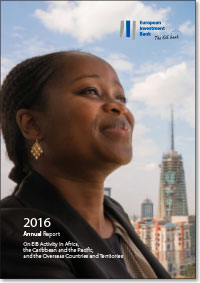 Description
The EIB has been active outside the European Union for over 50 years. In 2016, we invested EUR 765m in 29 projects in sub-Saharan Africa, the Caribbean and the Pacific (ACP).
In this report on activities in the ACP regions, you can travel to heart of some of these ground-breaking projects and find out about the impact our investment is having on the ground in emerging economies.
We look at expected results across several categories, and how we are bringing connectivity and power where it is most needed, while sustaining thousands of jobs, supporting entrepreneurs and small businesses and helping financial sectors evolve, in line with EU priorities abroad.
In addition to these, you can find out how the EIB works with our partners, what our future priorities are, and see statistical breakdowns of what we have done by sector of operation and by region.