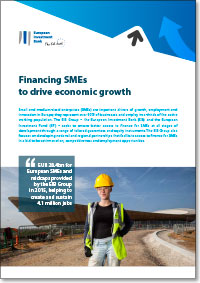 Description
Small and medium-sized enterprises (SMEs) are important drivers of growth, employment and innovation in Europe; they represent over 90% of businesses and employ two-thirds of the active working population.
The EIB Group seeks to ensure better access to finance for SMEs at all stages of development through a range of tailored guarantees and equity instruments, in a bid to boost innovation, competitiveness and employment opportunities.
In 2015, the EIB Group provided EUR 28.4bn for European SMEs and midcaps, helping to create and sustain 4.1 million jobs.