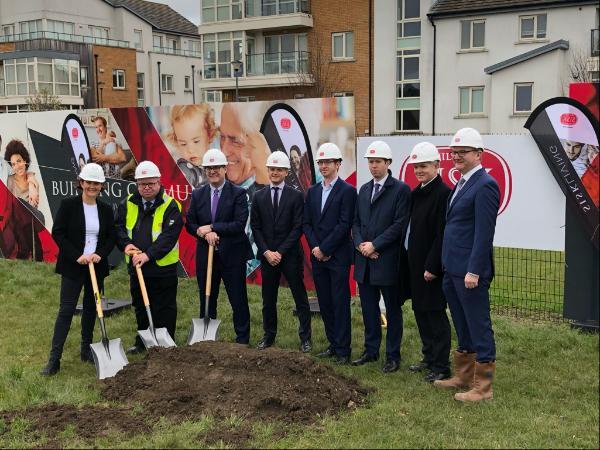 Hundreds of new homes to be built across greater Dublin area in next two years
Construction to start immediately for first stage of national social housing programme
Bank of Ireland, European Investment Bank, Macquarie Capital and Korea Development Bank back first social housing PPP in Ireland
534 new homes will be built in Dublin, Louth, Wicklow and Kildare in the first phase of Ireland's first social housing Public-Private Partnership following agreement for €120 million of new investment.
Half of the 25 year financing for the first stage of the scheme will be provided by the European Investment Bank, alongside backing from the Bank of Ireland, Macquarie Capital and Korea Development Bank.
The social housing construction programme will make a significant contribution to addressing the shortage of social housing in Ireland and the overall three-phase programme will enable 1,500 new homes to be built across the country.
"This contract with Comhar Housing Limited represents a significant milestone in the provision of social housing through the means of a Public-Private Partnership. These 534 homes are the first social housing units to be delivered in Ireland using this PPP model, and represent the first of three bundles in this programme that will deliver a total of 1,500 units. The valuable support of the European Investment Bank and Bank of Ireland for this project demonstrates their faith in what is an innovative social housing delivery mechanism, and I would like to acknowledge the hard work of the range of public and private sector stakeholders that have brought the project to this stage. This project represents yet another means of delivering on our overall targets for social housing as part of Rebuilding Ireland, and I am delighted to note that construction of these new homes will begin immediately." said Eoghan Murphy TD, Minister for Housing, Planning & Local Government
"The European Investment Bank recognises the urgent need to increase the supply of social housing in Ireland and is pleased to provide half of the financing for Ireland's first social housing PPP scheme through our first support for the social housing sector using a PPP structure anywhere in Europe. The EUR 120 million programme will improve the lives of hundreds of families across the country in the coming years and follows the close cooperation between the EIB and Irish partners to tackle the housing crisis". said Andrew McDowell, Vice-President of the European Investment Bank.
"This is a landmark development in providing new social housing in Ireland. It is the first time we have used the PPP model for social housing, opening up an important new avenue for delivering the Irish State's social housing requirements. It is also the first time in Europe that the EIB has financed a PPP social housing scheme.  I am delighted that the hard work of all stakeholders has led to the successful closing of this critical project and I look forward to the delivery of these homes as quickly as possible," said Cathy Bryce, Director of the NDFA.
"We are delighted to support the winning consortium Comhar Housing Limited, and specifically Macquarie Capital, with this PPP initiative which promises to change the lives of hundreds of families in the Greater Dublin area. Bank of Ireland's leading role demonstrates our commitment to play a central part in funding the development of new homes in Ireland. We look forward to working with all the parties involved to make it a success" said Tom Hayes, CEO Corporate Banking at Bank of Ireland.
"As the need for greater social and affordable housing provision continues to grow globally, awarding agencies are increasingly looking to PPP frameworks. We invest in the early development stages of projects globally, applying both balance sheet capital, development capital and infrastructure expertise to make critical projects such as this happen. We have a longstanding relationship of over 10 years with Sisk Group, including currently being on-site together on the €250 million Grangegorman Campus and look forward to working with them, the NDFA and Choice to deliver this vital social infrastructure development for Ireland", said Mark Bradshaw, Head of Infrastructure Projects, Europe and Americas at Macquarie Capital.
The new social housing units will be managed by Choice Housing, part of the Comhar consortium, under a 25 year financing agreement and construction managed by Sisk.
Under the terms of the PPP finance agreement the Comhar consortium will build and maintain the housing for 25 years before it is returned "in prime condition" to the Irish State.
Construction is expected to begin in the coming weeks and take up to two years depending on the site.
Background information:
The six sites identified for 534 new homes include:
Ayrfield, Malahide Rd with 150 units including 50 for senior citizens
70 in Scribblestown and Finglas, both in Dublin City Council's area;
Corkagh Grange in South Dublin with 109 units;
Dunleer, Co Louth with 80 units;
Convent Lands, Wicklow Town with 51 units;
and Craddockstown in Naas, Co Kildare with 74 units.