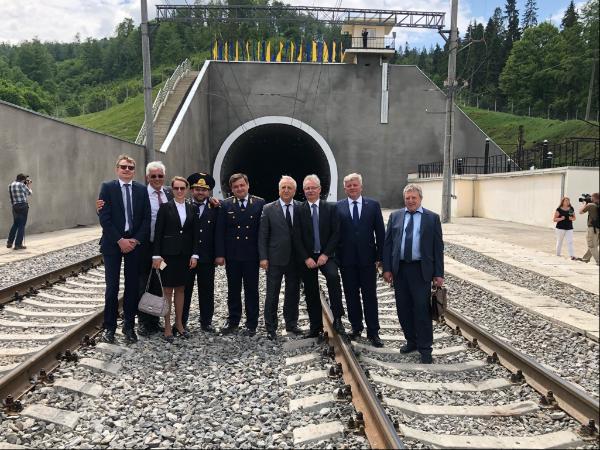 The tunnel promotes environmentally friendly transport and facilitates passenger and cargo traffic
The new 1.8 km double-track tunnel was supported by a EUR 55m EIB loan
The Beskyd Tunnel, a crucial part of a railway connection between the Ukraine and the EU, was inaugurated today. It is of the utmost importance fostering deeper integration between Ukraine and the European Union.
The construction of the new 1.8 km-long tunnel has been supported by an EIB loan of EUR 55m. The tunnel is located in the Carpathian Mountains near Beskyd in south-west Ukraine. It replaces the former single-track tunnel, which was the only single-track section of the line on the otherwise twin-track electrified corridor between Lviv and the Hungarian and Slovak borders.
After the inauguration of the new Beskyd Tunnel, there is great potential for doubling domestic and international freight train operations to 24 million tonnes and 56 trains in both directions over the next ten years. Passenger transport will be able to reach up to 40 trains per day in both directions during this period. This significant volume increase is derived from European quality standards and the high reliability of railway operations on the Ukrainian part of the extended TEN-T corridor.
This project is a good example of cooperation between the EIB and the European Bank for Reconstruction and Development (EBRD), which have co-financed this ambitious railway tunnel construction project together with Ukraine.
President of Ukraine Petro Poroschenko stated: "It is important for Ukraine and its economy, because it improves conditions for our exports to Europe, the volume and share of which is increasing substantially due to the Association Agreement. It is a priority for the integration of Ukraine's transport network into the European transport system. It is a project that brings Ukraine closer to the European Union and the European Union closer to Ukraine. The Beskyd Tunnel is a symbol of the country's large-scale renewal and its transition to sustainable development."
EIB Vice-President Vazil Hudák commented: "I congratulate Ukraine and all the participants that have contributed to the implementation of the new Beskyd tunnel bringing Ukraine closer to the European Union. This modern piece of infrastructure is a significant project accomplished under the Eastern Partnership. It expands transport services along the strategic transport corridors, improves transport safety and speed for the benefit of citizens and helps faster and more sustainable economic development."
The project appraisal conducted in accordance with standards applied by the EIB received technical assistance grant support from the Eastern Partnership Technical Assistance Trust Fund (EPTATF).
Chairman of Ukrainian Railways Yevgen Kravtsov emphasised: "the strategic importance of the Beskyd Tunnel for the European economy as well as for trade exchanges between Ukraine and other countries. More than 40% of transit cargo will be transported through this tunnel within the territory of Ukraine towards Western and Central Europe. In fact, the launch of the new tunnel has enabled us to remove the bottleneck of the 5th Krytskyi International transport corridor, which goes through the territory of Italy, Slovenia, Hungary, Slovakia and Ukraine."