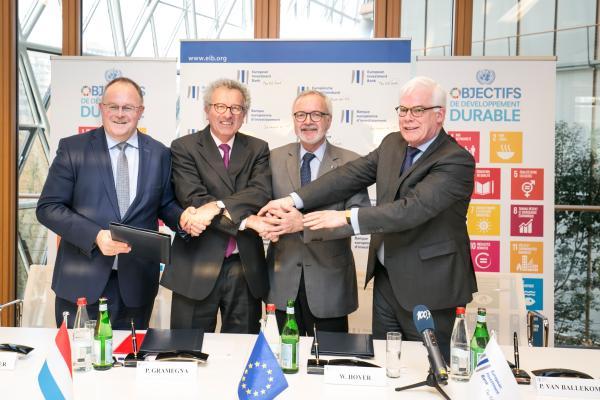 Building on the success of agreements put in place over a decade, the Grand Duchy of Luxembourg and the European Investment Bank (EIB) have signed their fifth cooperation agreement for providing technical assistance to microfinance in African, Caribbean and Pacific (ACP) countries. This new Memorandum of Understanding will make it possible to continue combining the expertise, networks and resources of the Luxembourg Ministries of Finance and Foreign and European Affairs with those of the EIB to support micro and small enterprise projects in an effective and targeted manner. The aim is to contribute to socio-economic development and poverty reduction. 
This fifth agreement will have a particular focus on projects supporting young people and developing access to education, as well as micro and small enterprise projects in regions affected by migration. The agreement, which will benefit from a new EUR 3.6m envelope for the next three years, was officially signed on 23 January 2017 at the EIB's headquarters in Luxembourg by Minister of Finance Pierre Gramegna, Minister of Cooperation and Humanitarian Action Romain Schneider, EIB President Werner Hoyer and Vice-President responsible for operations in ACP countries Pim van Ballekom.
Luxembourg and the EIB have been working together on development since late 2006 and over ten years 48 microfinance projects – including some in the world's poorest countries – have received a total of EUR 11.7m. The initiatives are located in 20 ACP countries, with some significant operations, owing to the flexible approach, directed to Asia and the Middle East on a case-by-case basis.
Working together has provided a substantial leverage factor, with the Grand Duchy of Luxembourg financing technical assistance for the identified projects and the EIB supporting their implementation. The EIB has contributed EUR 460m to the projects developed and made possible by Luxembourg technical assistance, generating total financing of EUR 1bn (an EIB loan covers a maximum of 50% of a project's total cost, often less). This makes these agreements powerful development tools deployed quickly and flexibly on the ground.
Minister of Finance Pierre Gramegna commented: "Inclusive finance is a key element of poverty reduction and job creation. The cooperation agreement with the EIB places particular emphasis not only on the social performance of the microfinance institutions receiving support, but also on the development of new financial technologies. This is yet another concrete example of the centre of excellence created here in Luxembourg, which is host to more than half of the entire world's microfinance assets under management."
Minister of Cooperation and Humanitarian Action Romain Schneider highlighted the following: "The Directorate for Development Cooperation and Humanitarian Action has been committed to microfinance and inclusive finance for over 20 years. In addition to our financial contribution, the Directorate for Cooperation brings a certain level of experience in technical assistance for developing countries to this agreement." 
EIB President Werner Hoyer said: "The complementary nature of the approaches of the Luxembourg Government and the EIB makes these partnership agreements exemplary tools and I would like our excellent level of cooperation to serve as a model. The EIB financing bolsters this assistance and makes it possible to implement small projects with a crucial impact on local people. Together, we are creating opportunities where they are most needed, directly addressing current issues and acting where requirements are most pressing. In particular, the new agreement we are signing will enable us to support projects in regions that have been heavily impacted by migration, thanks to the Economic Resilience Initiative, in particular."
Indeed, a priority of the fifth Memorandum of Understanding between Luxembourg and the EIB will be assisting small enterprises and microfinance institutions in countries affected by migration. This approach is directly in line with the Economic Resilience Initiative (ERI) launched by the EIB and approved by the European Council in Brussels in June 2016. The goal is to strengthen resilience in the EU's Southern Neighbourhood and the Western Balkans, as requested by the governments of EU Member States, including Luxembourg. Within this framework, it will meet the pressing needs of initiatives supporting job creation, essential infrastructure and social cohesion in these regions.
The other priority will be assisting micro and small enterprises and microfinance institutions supporting access to education and the job-creating projects of young entrepreneurs. This theme is inspired by the seventh European Microfinance Award, "Microfinance and Access to Education", which highlighted and rewarded remarkable and particularly deserving initiatives, including the winners, Kashf Foundation, in 2016.
Additional information on the Memoranda of Understanding
The beneficiaries of the four cooperation agreements – of which there are 48 so far – are located in 20 ACP countries (Cameroon, Uganda, Chad, Ghana, Republic of the Congo, Senegal, Tanzania, Namibia, Kenya, Côte d'Ivoire, Nigeria, Rwanda, Niger, Liberia, Mali, Jamaica, Haiti, Dominican Republic, Ethiopia and East Timor), as well as some projects in Pakistan, Afghanistan, Tunisia, Morocco, Palestine and Lebanon. Several regional projects targeting Sub-Saharan Africa have also received support. Of the EUR 11.7m available, a EUR 1.2m tranche is still being allocated.
The Luxembourg funds are dedicated to technical assistance projects supporting EIB investments (equity participations) in microfinance companies and institutions. These intermediaries operate on the ground, offering local financial services to micro and small enterprises. The technical assistance takes the form of support and training covering areas such as accounting, administration, secretarial work, risk management and good governance.
These institutions provide small-scale financial services solutions such as savings, loans, insurance and other basic financial services to individuals with little or no income who are excluded from the traditional banking system, as well as to micro and small enterprises with only limited access to financial services. The provision of these types of financial services to unbanked individuals enables their beneficiaries to carry out their business, ensuring they have day-to-day income, can implement productive projects and, if possible, build up savings. They contribute to the aims of cutting poverty, creating jobs and combating major obstacles to development.
In accordance with the terms of the agreement, the EIB uses its participation in the investment funds it supports to identify the technical assistance projects eligible for financing for the Grand Duchy of Luxembourg. Monitoring and evaluation are then performed jointly.