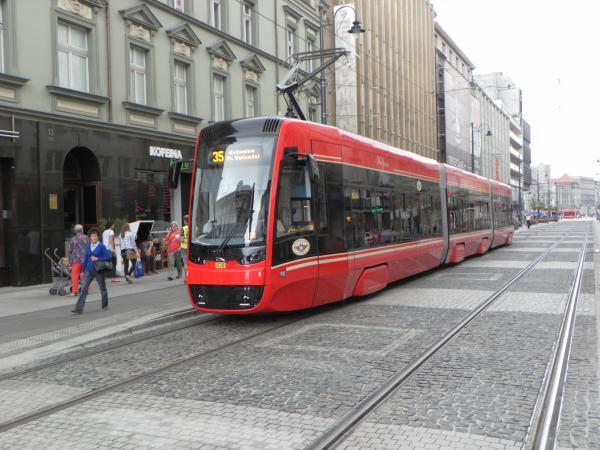 The European Investment Bank (EIB) has provided two loans totalling over PLN 320 million for the purchase of modern and energy-efficient low-floor trams for Krakow and Upper Silesia Agglomeration towns. Within the support for Silesia, the EIB will also finance the modernisation of the existing tram stock and infrastructure.  Thanks to the attractive financing terms offered by the EIB, the municipal companies will enjoy the benefits of lower funding costs and a long loan repayment period. The EIB loans together with EU structural funds have made it possible to complete the financing plan and to implement the projects.
László Baranyay, EIB Vice-President with responsibility for the Bank's operations in Poland, said:  "Promoting competitive and environmentally friendly transport services is among the European Investment Bank's operational priorities.  We are therefore especially pleased that our loans will co-finance the purchase of modern, energy-efficient trams for Krakow and Upper Silesia, since these investments will both increase the safety and quality of public transport services and reduce emissions of substances harmful to the environment."
The Krakow Municipal Transport Company (MPK S.A.) received a loan of PLN 92 million from the EIB for the purchase of 36 low-floor trams. The modern trams will be some 43 m long, with a capacity of approximately 300 passengers. They will be air-conditioned and will contain modern passenger information systems as well as ticket vending machines. In each carriage there will be luggage and bicycle accommodation spaces; USB ports and power points will also be provided, enabling passengers to recharge their phones and other mobile electronic devices.
At the same time, an EIB loan of PLN 231 million will be used to improve Upper Silesia's tram infrastructure and more specifically to purchase 42 low-floor trams and to modernise 95 trams which have been serving the Silesian cities for very many years. Funds provided by the EIB will also finance the reconstruction of the traction system and modernisation of almost 63 km of tracks. The new trams, which will travel on the upgraded tracks, will not only be faster but also safer and quieter. The borrower for this project is Bank Pekao S.A. which, thanks to the EIB loan, was able to offer more attractive financing terms to the Silesian Tram Company, Tramwaje Śląskie, which will implement the project. The EIB finances projects not only by working directly with the implementing entity but also through local banks.
The new trams for Krakow and Silesia will be produced by PESA Bydgoszcz S.A., which will fit them with high-tech energy saving motors and with special platforms, making boarding and disembarking easier for those with reduced mobility. The trams for Silesia will also be made by Modertrans Poznań Sp. z o.o.