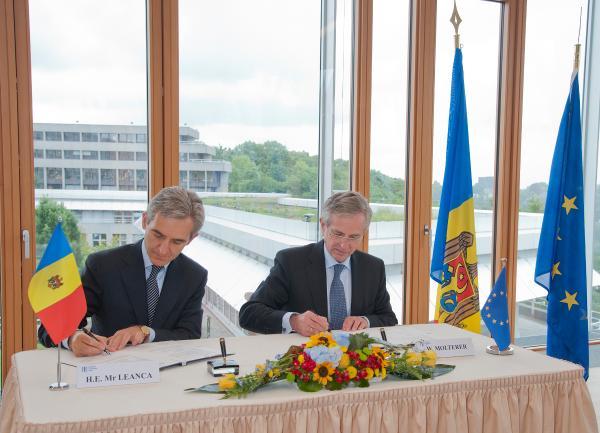 Today, the Prime Minister of the Republic of Moldova Iurie Leanca paid an official visit to the European Investment Bank (EIB) and signed with EIB Vice-President Wilhelm Molterer a loan contract for EUR 150 million to finance the rehabilitation and upgrading of key national road sections in Moldova.
EIB Vice-President Molterer stated: "The project signed today has significant cross-border and multi-modal implications and will contribute to better integration of Moldova with the EU by supporting the increased connectivity of the country with Romania and improving transport links to Moldova's only international port of Giurgiulesti on the Danube river."
The EIB loan will support improvements to Moldova's crucial transport conditions, contributing to an increase of transport safety, on the country's main road corridors by rehabilitating and upgrading several sections and constructing city bypasses. The first phase of the project includes sections of the future Chisinau bypass and the M3 national road, constituting an extended priority trans-European network corridor.
This operation represents a continuation of the successful cooperation with the Moldovan State Roads Administration. The Bank has previously provided two loans amounting to EUR 105 million, which are being deployed by this authority. The Republic of Moldova is the most important EIB customer in the Eastern Neighbours Region in terms of loans per capita. EIB lending in this country totals EUR 432 million, including the current loan.
During their meeting Prime Minister Leanca and Vice-President Molterer discussed the possibilities for future EIB financing in Moldova, identifying priority projects and sectors important for the development of the country.