A Dutch company develops software using cybersecurity threat data to predict the strikes and stop the attackers before they hit companies and governments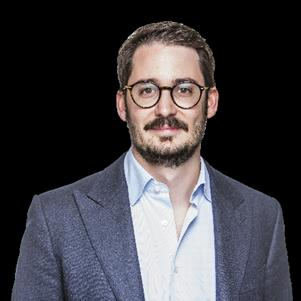 When other teenagers in the Netherlands were playing football or hanging out with friends at cafés, Joep Gommers was starting a career in cybersecurity.
"I was working in this field when I was 15 years old," says Gommers, who is now 37 and founder of EclecticIQ, a Dutch company that is a  leader in cybersecurity technology in Europe. "I was just conscious about cyber threats from an early age because I was already doing jobs that gave me insight into online data and how your information is not really in your own control."
More people, companies and governments are becoming victims of online attacks every year. Millions of people around the world benefit today from easy access to the internet and digitalized processes that improve lives in many ways. However, this has exposed people to an unprecedented level of threats. Cybersecurity is the new global challenge that is costing the economy billions of dollars. And the problem isn't improving, says Gommers and other industry experts.
The growing dangers for governments and private companies have made cybersecurity a priority for the European Union. The European Commission adopted specific directives and a new strategy in 2020 to boost cybersecurity in Europe. The European Investment Bank is stepping up investment in the sector. In August, the Bank signed a €15 million loan deal with EclectiqIQ as part of the European Fund for Strategic Investments. The money will help the company expand its staff from 100 to nearly 150 worldwide and further develop its new platform, built on "threat intelligence" software. The platform  helps the public and private sectors predict problems before they happen. If an attack does occur, the platform helps organizations detect the cyber threats earlier and fix the problem faster.
Staying ahead of the bad guys
EclecticIQ has its hands full trying to keep ahead of the cyber attackers. The threats at work and home are so vast that it is impossible to guard against every menace.
"We protect customers by putting intelligence at the core of our work," says Cody Barrow, director of threat intelligence and product manager at EclecticIQ. He and Gommers say the goal of the company's software platform is to help organisations stay ahead of rapidly evolving attacks and outmaneuver the people causing the problems.
Fouad Bitar, a senior industry advisor at the European Investment Bank, says the key to EclecticIQ's work is good data that is turned into proactive, actionable intelligence.
"Cyber threat intelligence is a process that enables the aggregation and analysis of all sorts of data related to a cyberattack," he says. Thanks to services such as "data ingestion, fusion and dissemination automation," EclecticIQ's software allows analysts to better see the threats and share information to defeat them
One of the main concerns for private companies and governments is the protection of data and sensitive information. Cyberattackers can steal trade secrets and technology, making European firms less competitive and less able to succeed on the world stage. Ransomware, espionage and the spread of fake news are among the most increasingly common cybersecurity threats. They can destabilise businesses and even threaten the democratic process.
"We are facing a new kind of war," says Francisco Alves da Silva, a loan officer at the European Investment Bank. "Today it's relatively easy to stop the energy supply in a country or steal sensitive data protected by intellectual property".
COVID-19: hackers seize new cyberattack opportunities
More people are staying home to work
More calls are made on personal phones, and laptops are used more often
This new lifestyle raises the risks of virus and malware attacks
Companies and governments are spending more time and money to stop attackers
During the coronavirus crisis, many people are working from home. Hackers have seized this opportunity to make more attacks on personal phones and laptops, using new viruses and malware. This has caused companies and governments to spend more time and money on cybersecurity and deal with more attacks. To handle this new demand, EclecticIQ started flying less often, offering more support to clients online, organising many video training sessions, expanding its reach and improving technology.
While people are switching a lot each week between the home office and the workplace, the best ways to stay safe have not changed, Gommers says. Simple solutions often work best, such as using different passwords for different accounts and being careful when using a new application or opening a strange email. People are not always diligent when protecting themselves from cyber threats, he adds.
 "This happens when you prefer an easy life over a safe life," Gommers says.