Polish firm develops innovative diagnostics tool for HER2 breast cancer that provides results in less than one hour
Magdalena Staniszewska and Marcin Staniszewski have invented a potentially revolutionary device to detect breast cancer. But the idea didn't start with breast cancer at all. It started with the eye … and NASA.
Magdalena, an immunochemist by training and a cell biologist by passion, was working at the prestigious Pierce Lab at Harvard Medical School in Boston in 2012, researching ocular diseases.  Marcin had recently graduated from Akron University in Ohio with a master's degree in engineering. He was collaborating with NASA on a project using new composite materials for spacecraft engines, and he got interested in the possible applications of fibre optic technologies in space.
Dinnertime discussions focused on science. The couple came up with the idea of using photonics to detect the presence of markers for various diseases in the body without having to remove cells or tissue. Instead, fibre optics could be used to measure disease markers, such as those floating around a tumour, inside the body in real time.
"That was how we developed the idea of making a novel diagnostic tool for measuring something in real, living tissue," Magdalena Staniszewska recalls.
In 2013, the couple founded SDS Optic and moved back to their native Poland. The original plan was to focus on ocular diseases, but the couple quickly pivoted to breast cancer.
"Cancer caught our attention because there was a great need," says Staniszewska, chief science officer at the company. Cases were rising globally, even among young women. "It was really frightening, and for me, obviously, it was close to my heart."
SDS Optic has spent the last decade developing a diagnostic tool, inPROBE. Inserted into the body, in less than an hour it detects the presence of an aggressive type of breast cancer called HER2. That compares to the days or weeks women wait for the results of a traditional biopsy. HER2 stands for epidermal growth factor receptor 2, a protein that helps cancer spread rapidly. Early diagnosis improves the success of recently developed treatments for HER2 cancer.
Breast cancer is the number one cancer among women, with roughly 2 million cases diagnosed and more than 650 000 deaths each year, says Rebecca Verdin-Pol, an investment officer in the European Investment Bank's life science and biotech unit. The European Investment Bank is providing SDS Optic with €10 million in venture debt financing, backed by an InvestEU guarantee.
"Being able to diagnose in real time with very high accuracy is really game changing," Verdin-Pol says.
Diagnosing cancer without a biopsy  
In a traditional biopsy, a sample of tissue or cells is removed and sent to a diagnostics lab to determine whether cancer is present and, if so, what type. Results can take as long as several weeks, depending on the availability of a pathologist. Traditional biopsies come with another risk. The process of removing the cancerous tissue or cells can inadvertently spread those cells to another part of the body.
The inPROBE device works differently:
The nano-size fibre probe is placed in a very thin biopsy needle that is inserted in the body near the tumour or potentially cancerous cells. Using a fibre probe and a hair-thin biopsy needle of 1.2 mm, as compared to 12 mm for a traditional biopsy needle, makes the process safer and much less painful or invasive.
Data gathered by the probe is transferred via fibre optics to a diagnostic device that determines whether cancer is present by the levels of certain markers, such as the HER2 protein.
During cancer treatment, inPROBE can let doctors know if therapies to treat HER2 cancer, like a monoclonal antibody called Trastuzumab, are working based on the presence of biomarkers in the body.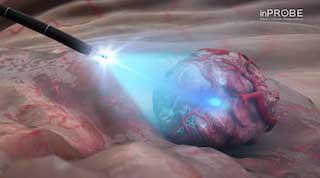 Tom Andersen, a principal advisor in the European Investment Bank's life sciences and health division, says that InPROBE's approach of detecting cancer directly in the body is a significant improvement over traditional biopsies, whose results are wrong up to 40% of the time. The device's speed and accuracy, combined with the minimally invasive procedure, is ground-breaking, he says.
"If you start poking, you irritate the cancer tumour," he says. "You avoid that with this novel technology, which is great progress."
Staniszewska says that one of the reasons SDS Optic decided to focus on HER2 breast cancer was because new therapies were being developed, such as Trastuzumab, but they require reliable diagnostics to be effective. The new therapies target the HER2 receptors on breast cancer cells and destroy the cells or alert the immune system to do so. HER2 proteins are prevalent in about 25% to 30% of breast cancers.
InPROBE's diagnostic approach could also eventually be used for other cancers, particularly other forms of breast cancer, says Verdin-Pol of the European Investment Bank. It requires changing the probe so that the fibre optics can identify and interact with different cancer markers.
"They started with breast cancer, but with a high probability that they could develop the device to detect other kinds of tumours," she says. "That would be quite revolutionary in the oncology sector."
Setting up in Poland
Magdalena and her husband Marcin spent 11 years in the United States before returning to Poland in 2014. Staniszewska says that family was a big part of that decision, but they were also drawn by a chance to start their own business.
Marcin had found Polish investors who were interested in backing SDS Optic. One of the investors insisted SDS Optic set up the company in Lublin, a university town about two hours southeast of Warsaw that had become a photonics hub.
The company was initially backed by funding from Poland's National Centre for Research and Development, and the company collaborated closely with local universities while developing its technology. In 2020, it won the "Women-led Innovation" award from the Innovation Radar Prize, which the European Commission bestows each year. The company is also supported by the European Union's research funding programme, Horizon Europe.
SDS Optic now has 36 employees, many of whom are locals, but it is looking internationally for new recruits. The European Investment Bank financing will help fund that growth, without diluting the current ownership, unlike traditional venture capital, Verdin-Pol says.
SDS Optic is working to bring the inPROBE device to market in the European Union and the United States. Clinical trials are ongoing in Poland. If they go well, the company hopes to begin selling the device commercially in the next couple of years. SDS Optic is also talking with the Food and Drug Administration in the United States, and it has set up a subsidiary to offer the device there. 
Staniszewska says that her time in the United States taught her valuable lessons, such as how to protect new ideas and how to use science to find solutions needed in the real world. "I always saw the United States as the best place to learn about science," she says. "Especially when I got to Harvard. Who could say no to that."
But she says that Poland provided the environment she needed to head a research team and push through the development of a novel diagnostic tool. "If I wasn't doing this on my home soil, it wouldn't be as rewarding as it is now."