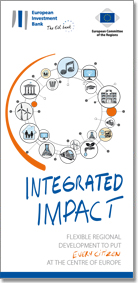 Description
Europeans want to be active and equal partners in shaping their own future.
The European Investment Bank (EIB) and the European Committee of the Regions (CoR) aim to provide a complementary offer to inspire and equip regions in guiding all Europe's citizens forward – together. The EIB and the CoR recognise that investment directed toward cohesion is a catalyst for sustainable growth. It is fundamental to the collective sense of society and mutual reliance on which we will build Europe's future.
Since 1958, the EIB has targeted support for projects in less-developed regions, and between 2007 and 2016 alone, the EIB's support for cohesion objectives within the EU amounted to more than EUR 200bn. Strong economic, social and territorial cohesion throughout Europe remains our mission. Flexible lending to regions, getting financing to the local level, where the needs of citizens are best understood, is an important part of this.
Such a decentralised approach is a path to a Europe where every citizen – wherever they live – feels that they are at the heart of our continent.