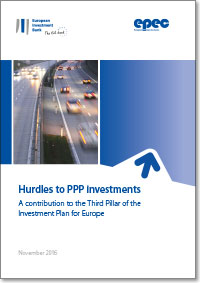 Description
This paper summarises contributions made by the European PPP Expertise Centre (EPEC, part of EIB's Advisory Services) in the context of discussions on the Third Pillar of the Investment Plan for Europe.
It discusses some of the most frequent hurdles to delivering public investment projects through PPPs in Europe.
Recognising that Member States that have used PPPs for some time have generally been able to deliver efficient and effective PPP projects, this paper deliberately focuses on the hurdles to the use of PPPs in EU Member States where PPPs are not, to date, widespread or common.
More information on the topic can be found in an institutional paper of the European Commission: Investment Challenges in Energy, Transport & Digital Markets: A Forward Looking Perspective.