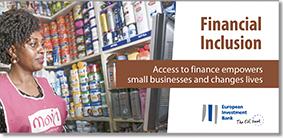 Description
Access to finance empowers small businesses and changes lives.
EIB microfinance facilities have brought EUR 300 million to more than 1.5 million beneficiaries through about 30 intermediaries.
Financial institutions have received technical assistance to support this lending. The Bank, with the help of the European Commission and the EU Member States, has launched dedicated microfinance facilities across Africa, the Caribbean and the Pacific, as well as in the EU's Southern Neighbourhood.
Similar facilities are now available for West Africa and the EU's Eastern Neighbourhood. The Bank tracks the impact of these programmes to make sure the needs of micro and small businesses are being met.