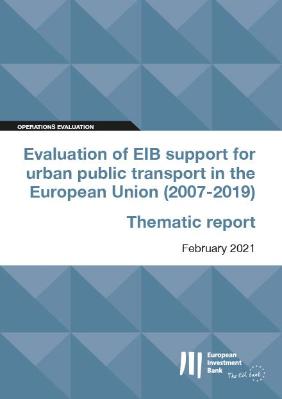 Description
This evaluation assesses how the EIB has supported urban public transport across Europe during 2007-2019 and with what results. This evaluation feeds into EIB's Transport Lending Policy, revised in 2021.
This report builds on various inputs, including a synthesis of 12 project evaluations published separately.
Overall, the EIB addressed the municipalities' needs in the sector and provided a substantial financial contribution to projects, especially during the crisis.
Most projects within scope delivered their production targets, but half did not achieve their expected ridership levels. Other outcomes were largely undocumented (e.g. modal shift from cars to public transport). The vast majority of completed projects were economically sound after completion, but a few exceptions call for a strengthened ex-ante review and ex-post estimate of ridership for these projects.
In the context of the EIB Group Climate Bank Roadmap, the Bank is currently adapting its methods and products to support the acceleration of the transition towards cleaner urban public transport technologies.
A report consolidating findings from the evaluation of 12 urban public transport projects supported by the EIB. This report is part of the Evaluation of the EIB's support for urban public transport (trams, metros, buses) in the EU over the period 2007-2019.
An overview of the independent evaluation of the European Investment Bank's (EIB) support for urban public transport across Europe (2007-2019).