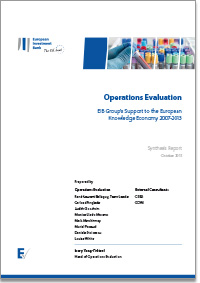 Description
The evaluation assessed the EIB Group's (EIB and EIF) support to the strengthening of the European knowledge economy (KE) over the period 2007-2013.
During this period, the EIB financed 543 operations in KE-related fields - Research, Development and Innovation, Information and Communication Technology, and Education and Training. Of these, 58 operations were studied in detail as part of the evaluation.
The evaluation concluded that on the whole, the EIB Group performed well in supporting the European KE. The evaluation made several recommendations aimed at helping the Group maximise and better demonstrate its contribution to the KE.
The full report is available in English. Only the executive summary has been translated into the other languages.