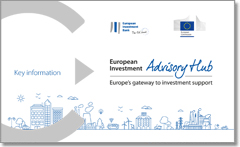 Description
Launched in September 2015 as part of the Investment Plan for Europe, the EIAH is a tool to strengthen Europe's investment environment and improve the quality of investment projects.
The European Investment Advisory Hub (EIAH or the Hub) is designed to act as a single point of entry to a comprehensive offer of advisory services and technical assistance.
The Hub aims to improve the quality of investment projects by offering tailored advisory support to European project promoters.
It builds on the expertise of the European Commission, the EIB Group, National Promotional Banks and Institutions and EU Member States' managing authorities.