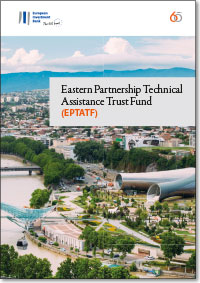 Description
This leaflet explains where and how the Eastern Partnership Technical Assistance Trust Fund (EPTATF) operates, its main activities and priority sectors, as well as its guiding principles.
It showcases how the Trust Fund supports the technical assistance for the preparation and implementation of investment projects, as well as supporting upstream studies, sector development strategies or policy and institutional reforms in the Eastern Partnership countries.
Since its inception in 2010, 26 operations for a net amount of EUR 32.1 million had been approved by the EPTATF Contributors Committee.
Eight donors have contributed a total of EUR 40.3m to the Fund. They are Austria, France, Germany, Latvia, Lithuania, Poland, Sweden and the United Kingdom.