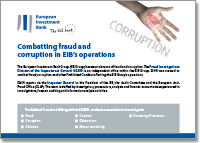 Description
The European Investment Bank Group (EIB Group) has zero tolerance of fraud and corruption. The Fraud Investigations Division of the Inspectorate General (IG/IN) is an independent office within the EIB Group, created to combat fraud, corruption and other Prohibited Conduct affecting the EIB Group's operations.
IG/IN aims to protect the EIB Group's finances and reputation through six core activities:
Assessment and, where necessary, investigations of allegations
Policy work, such as advising on the wording of Bank documentation, and giving advice to colleagues throughout the Bank on addressing fraud and corruption-related issues
Proactive Integrity Reviews (PIRs) to identify actual fraud or potential vulnerabilities
Fraud awareness training for all EIB Group staff
Raising awareness of fraud and corruption-related issues in the public and private sectors
Analysis and information gathering to support the above five activities.