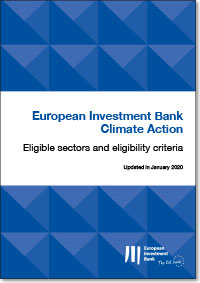 Description
The EU is in the process of agreeing its taxonomy for climate objectives. When this is finalised, the list of EIB-eligible sectors and criteria will be updated. In the meantime, the EIB will apply the definitions listed in its Climate Bank Roadmap published in December 2020 as a basis for approvals.
As part of the Climate Strategy, the European Investment Bank drew up a list of eligible sectors and eligibility criteria for climate action. As specified in the Climate Strategy, this list has been brought into line with the Joint Methodologies For Tracking Climate Finance developed by the Multilateral Development Banks (MDBs), and the Common Principles for Climate Finance Tracking developed by the joint climate finance group of MDBs and the International Development Finance Club (IDFC).
As stipulated in the Climate Strategy, this list is regularly reviewed to take account of internal EIB developments, including the Bank's work on high impact investments, which is part of the implementation of the Climate Strategy; and the further joint work with other MDBs and members of the IDFC to align climate finance tracking with the goals of the Paris Agreement.
This most recent iteration of the eligibility list predominantly takes account of consequential changes required to the climate action eligibilities in response to EIB's recent adoption of its new Energy Lending Policy.