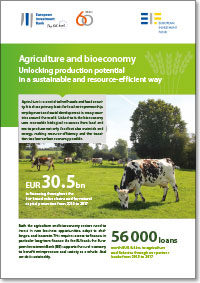 Description
Unlocking production potential in a sustainable and resource-efficient way
Agriculture is essential to livelihoods and food security. It is also a primary basis for local entrepreneurship, employment and social development in many countries around the world. Linked to it, the bioeconomy uses renewable biological resources from land and sea to produce not only food but also materials and energy, making resource efficiency and the transition to a low-carbon economy possible.
Both the agriculture and bioeconomy sectors need to invest in new business opportunities, adapt to challenges, and innovate. This requires access to finance, in particular long-term finance.
As the EU bank, the European Invesment Bank supports the rural economy to benefit entrepreneurs and society as a whole. And it does it sustainably.
The EIB invested EUR 30.5bn in financing throughout the bio-based value chains and for natural capital protection from 2013 to 2017.