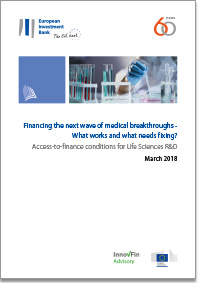 Description
Access-to-finance conditions for Life Sciences R&D
This study, carried out under the Innovfin Advisory mandate, reviews the access-to-finance conditions for Life Sciences R&D and proposes potential solutions that could catalyse investments into the sector.
The life sciences are a vital economic sector with innovation at their very core. Continued development of the industry is crucial to ensure the health and well-being of European Union citizens, whilst stimulating research and development and contributing to the EU's global competitiveness.
The scope of this study focuses primarily on small and medium-sized enterprises (SMEs) developing innovative medicines in four bio-regions within Europe: Bavaria in Germany, Catalonia in Spain, the entirety of Poland, and the South East of England in the UK.
The study finds that a lack of funding is limiting growth in European life sciences R&D, with an estimated collective funding gap in the four bio-regions of ca. EUR 30-40bn over the period 2017-2021. Current funding instruments are found not to meet all the needs of life science innovators, with nuances between the analysed regions. For life science SMEs, this presents a range of strategic and operational issues, limiting their ability to grow and contribute to the development of the European life sciences industry.
The study puts forth a number of recommendations to address these funding gaps. In order to complement the already emerging novel funding mechanisms, short- and long-term actions are proposed. These include a.o. the provision of catalytic grants and "patient" risk capital, the strengthening of capabilities of existing late-stage life science investors, and the establishment of a new targeted financing mechanism. Non-financial recommendations aim at strengthening the market through EC's Capital Markets Union initiative and other initiatives developed in collaboration with national governments.
The study was carried out by InnovFin Advisory.