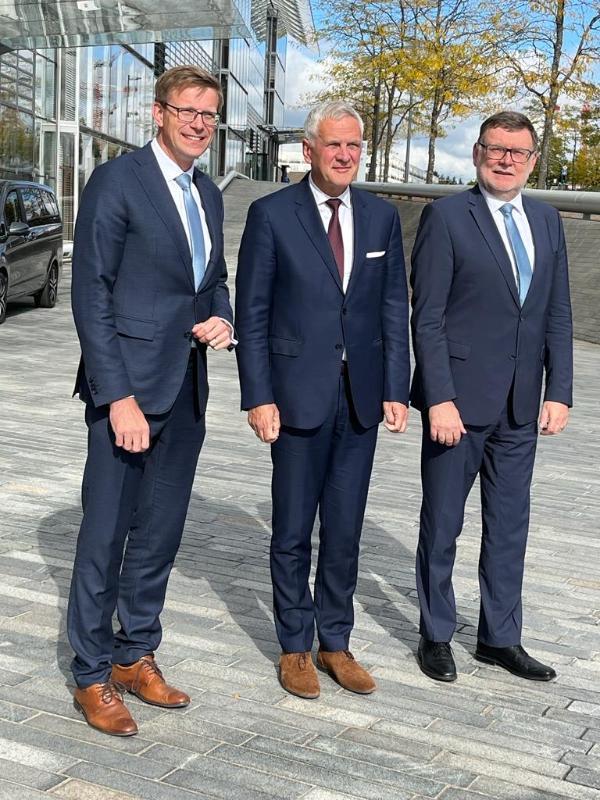 On Monday 3 October, Czech Minister of Finance Zbyněk Stanjura and Minister of Transport Martin Kupka visited the European Investment Bank (EIB) for a formal meeting with Vice-President Kris Peeters and the EIB's Central and South-eastern Europe lending team. The visit of the two ministers with their delegations comes as the Czech Republic holds the Presidency of the Council of the European Union and coordinates the work of the 27 EU Member States.
"I was pleased to welcome the Minister of Finance and Minister of Transport to the EIB headquarters and have a fruitful conversation on how to promote sustainable transport in light of the review of the EIB Transport Lending Policy. We discussed how to cooperate in introducing innovations in the sector during the ongoing Czech Presidency of the Council of the European Union, as well as continuing to provide our advisory services and financial support for ongoing transport projects," said Vice-President Peeters.
The EIB and the Czech Republic will continue to prioritise climate action in the region, supporting clean projects in areas such as the railway sector, which can play a significant role in promoting sustainable transport and lead to reduced greenhouse gas emissions.
Last but not the least, the discussions also focused on financial support for the recently signed Ukraine Solidarity Package — Czech Republic for healthcare assistance, which the Czech government and the EIB are committed to implementing.