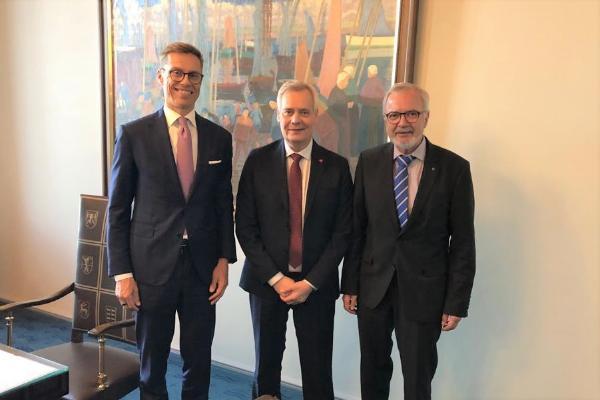 The Management Committee of the European Investment Bank, chaired by President Werner Hoyer, was in Helsinki this week for discussions and high-level meetings with national and local authorities. Starting from July 1st, Finland will take over the rotating Presidency of the European Union. 
During the official visit, meetings with newly installed Prime Minister Antti Rinne, as well as the new government's Finance Minister Mika Lintilä, took place to discuss priority areas for investment in the coming years. After meeting the Mayor of Helsinki Jan Vapaavuori on Wednesday, the Bank's President Werner Hoyer visited the President of the Republic, Sauli Niinistö, to discuss EIB impact in Finland and the future of Europe.
Since 1994, the European Investment Bank has made available nearly 22 billion euros in favourable lending to Finnish projects that improve peoples' lives in Finland and beyond. The Bank has supported weatherproofing Finland's energy network in the face of climate change. It has also financed cutting-edge innovation of Finnish companies in the field of mobile diagnostics equipment and other medical tech ventures.
The Management Committee of the European Investment Bank, on which former Finnish Prime Minister Alexander Stubb also sits, is responsible for the day-to-day running of the institution. It also takes the preliminary decisions on all loan requests for EIB-financing.