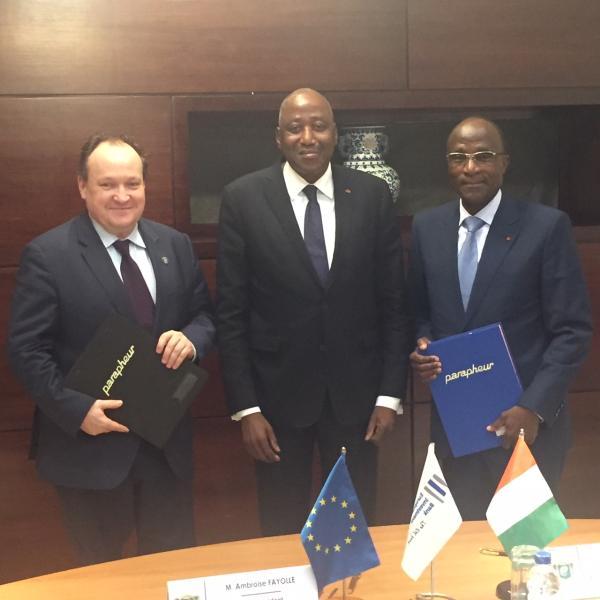 Three major agreements were signed by the European Investment Bank (EIB) this week on the margins of the Africa Union-European Union Summit that will deliver benefits for people across Africa:
infrastructure projects for water in Cote d'Ivoire
transport routes in Madagascar
electricity modernisation for Senegal
The projects are all also supported by EU grants, and are helping the European Union to deliver on the Sustainable Development Goals. They come alongside another set of EIB financing agreements signed in Abidjan to support micro enterprises and SMEs in West Africa and Ethiopia. 
Cote d'Ivoire: Drinking water for one million people
In Abidjan itself, the Côte d'Ivoire's capital, one million people will benefit from cleaner drinking water and a modernised water supply system thanks to financing of EUR 35 million from the EIB, grant support from the European Commission and co-financing from the French Development Agency (AFD).
This AEP Abidjan project will potentially have a major public health benefit - providing 700 000 people with improved drinking water and 300 000 others connected for the first time to the modernised network.
Vice-President Ambroise Fayolle, responsible for development at the EIB, said: "The projects we have signed in Abidjan show how the EIB, as the EU bank, is committed to supporting new investment in Africa that improves people's daily lives by providing basic services and helping to create better conditions for business as well. As African and European leaders gather in Abidjan, we are pleased to confirm this fresh investment, alongside our partners, that will benefit more than one million people with safe drinking water and new connections to the water supply."
Better electricity in Senegal, better roads in Madagascar
This week, the EIB also signed a set of agreements with the Senegalese government and the European Commission which will commit a combination of EU grants and EIB financing for the Senelec project. This supports modernisation of the country's electricity system in rural areas and where around 55 000 will benefit - particularly in one of Senegal's poorest regions Casamance, hard hit by migration.
Connecting Madagascar from North to South is the aim of an agreement between the Commission and the EIB, also signed in Abidjan. Madagascar's President Hery Rajaonarimampianina and Minister of Foreign Affairs Henry Rabary-Njaka welcomed the agreement to combine 225m of EIB loans and EU grants for the construction and repair of 350 kilometres of national road. The project will support job creation and help the country deal with the effects of climate change on infrastructure.
Photo: EIB Vice-President Ambroise Fayolle, Amadou Gon Coulibaly, Prime Minister of Cote d'Ivoire, and Adama Kone, Minister of Finance, at the signature of the Abidjan water project
More information