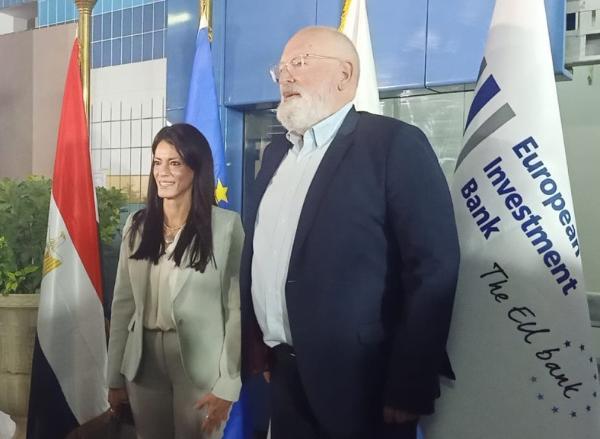 Executive Vice-President of the European Commission Frans Timmermans, heading the Commission's work on the European Green Deal, and Egypt's Minister of International Cooperation Rania Al-Mashat, visited the Maspero metro station site, part of the Cairo Metro Line 3 (phase 3) project, for which the European Investment Bank (EIB) has provided financing worth €600 million.
The project includes supervision and technical assistance funded by the EU grant component, which covers training and transferring expertise to the National Authority for Tunnels (NAT). The Agence Française de Développement (AFD) contribution amounts to €300 million, while the EU grant amounts to €43 million.
According to Timmermans, "The future can only be green. Through cooperation between Egypt and the EU team, we will achieve a more sustainable and prosperous future for Egyptians and Europeans alike." Al-Mashat emphasised the profound role that transport plays in driving Egypt's inclusive economic growth. She stated that the transport sector is at the top of the Egyptian government's national priorities, contributing to economic and social development, and enhancing people's livelihoods.
Contributing 4.6% of Egypt's gross domestic product and providing 6.2% of the job opportunities in the market, the transport sector accounts for more than 20% of the Ministry of International Cooperation's ongoing development cooperation portfolio, with a value of $5.13 billion. Al-Mashat further applauded the strategic partnership with the European Union, which supports national efforts to achieve development across different sectors.
Cairo is home to about 20 million people and is the largest city in Africa. It faces serious problems in terms of organising urban mobility, road traffic congestion, heavy air pollution, saturated parking conditions and, consequently, accidents.
With climate change, a serious concern for Cairo and for Egyptians, improving the capital's transport system will contribute to more sustainable and green economic growth and urban development in Egypt.
Metro Line 3 aims to reduce travel times for residents, reduce traffic congestion, and cut carbon emissions and other pollutants in Cairo (reduction of 9.3 megatonnes of CO2 emissions during the operating period).
The first 4.3 km-long phase of line 3 was commissioned in February 2012 and the second 7.7 km-long phase was commissioned in May 2014. Phase 3 expands line 3 westwards. It will connect the city centre (Abassia) to the west bank of the Nile (Giza), crossing the river via Zamalek Island before splitting into two branches: one branch will head towards the Rod El Farag corridor in the north, and the other towards Cairo University in the south.
Line 3's Maspero station is part of the first section (3a) of phase 3.This section includes four underground stations. Maspero station is the last underground station before the line crosses the Nile. Phase 3 comprises three sections, covering 15 stations in total.