EUR 30 million loan for women owned micro and small enterprises
Co-investment in the Ethiopia Women Entrepreneurship Development Project (WEDP)
EIB Gender Strategy in action, implementing European Union policy
At its Africa Day in Addis Ababa, the European Investment Bank signed today a new loan with the Ethiopian Ministry of Finance and Economic Cooperation to further boost female economic inclusion and empowerment across the country.
The EIB will provide a EUR 30 million long term loan to the Ethiopia Women Entrepreneurship Development Project (WEDP) also funded by the World Bank (WB), which supports micro and small enterprises owned or partly owned by women entrepreneurs.
This will address a major obstacle, especially for women encountering a lack of access to finance for their firms. They are often excluded by commercial banks due to the relatively small loan size they need and the excessive collateral requirements (cf. study).
The Ethiopia Women Entrepreneurship Development Project aims at improving access to finance and business opportunities for these underserved female entrepreneurs. By fostering financial inclusion and the growth of women owned micro-small businesses, the EIB is helping to create jobs and supporting women's empowerment.
EIB President Werner Hoyer said: "To fight poverty and accelerate development we must tackle the obstacles that limit women's potential. Gender equality is also a core European value and central to the European Union's external policies which the EIB is committed to deliver. As the EU bank and one of the world's largest multilateral lenders, the European Investment Bank can make a real difference by investing in projects that promote women's inclusion and empowerment. By doing this we support the achievement of the UN's Sustainable Development Goals. It is not just the right thing to do: it's smart economics."
EIB Vice-President Ambroise Fayolle, who signed the loan in the Ethiopian capital, said: "By improving access to finance for women entrepreneurs and investing in female owned businesses, the Ethiopia Women Entrepreneurship Development Project will enhance economic growth, job creation, female empowerment, and ultimately poverty reduction in Ethiopia. This is very much in line with the Cotonou Agreement and cooperation between Ethiopia and the European Union, as outlined in the 2014-2020 National Indicative Programme for Ethiopia, and constitutes one of the Bank's priorities as reaffirmed in the EIB Group Strategy on Gender Equality and Women's Economic Empowerment."
Signing alongside EIB Vice-President Fayolle, the Ethiopian Finance Minister H.E Mr Ahmed Shide said: "Limited access to credit for private investment is a constraint to the growth and competitiveness of firms, particularly to Micro, Small and Medium Enterprises - disproportionately for women-owned firms. The ongoing Ethiopian government's Growth and Transformation Plan (GTP) gives priority to youth, especially women, by providing access to financial services and credit, as well as skills training for the manufacturing sector and professional life. The Women Entrepreneurship Development Project (WEDP), which was initiated in 2013 with the support of development partners has since served as a platform for mobilizing additional support for the cause. What started as a USD 50 million credit from the World Bank for the project has since attracted financing from the Italian and Japanese governments. I am now pleased to count the European Investment Bank as latest partner to support the initiative through the financing we just signed today".
EU Ambassador to Ethiopia, H.E Johan Borgstam said: "Ensuring gender equality is crucial if poverty is to be eradicated. It's first and foremost a question about human rights but it's also smart economics. No economy can achieve its full potential if half of the population does not have equal access to education, justice and political decision making. Gender inequality stifles the growth of individuals as well as the development of entire countries. The recent efforts of the Ethiopian government in ensuring that qualified women are given the same opportunities as their male counterparts sends an important signal to the Ethiopian people, women and men alike."
This 2018 edition of Africa Day is organised in partnership with the United Nations Industrial Development Organization (UNIDO) around the theme of sustainable industrialisation.
The EIB's Africa Day was created to explore the continent's many challenges and discuss ways to tap into its huge potential. The event serves as a platform for debate in areas such as private sector development, finance for small businesses, jobs for youth and women, agriculture, innovation and digitalisation.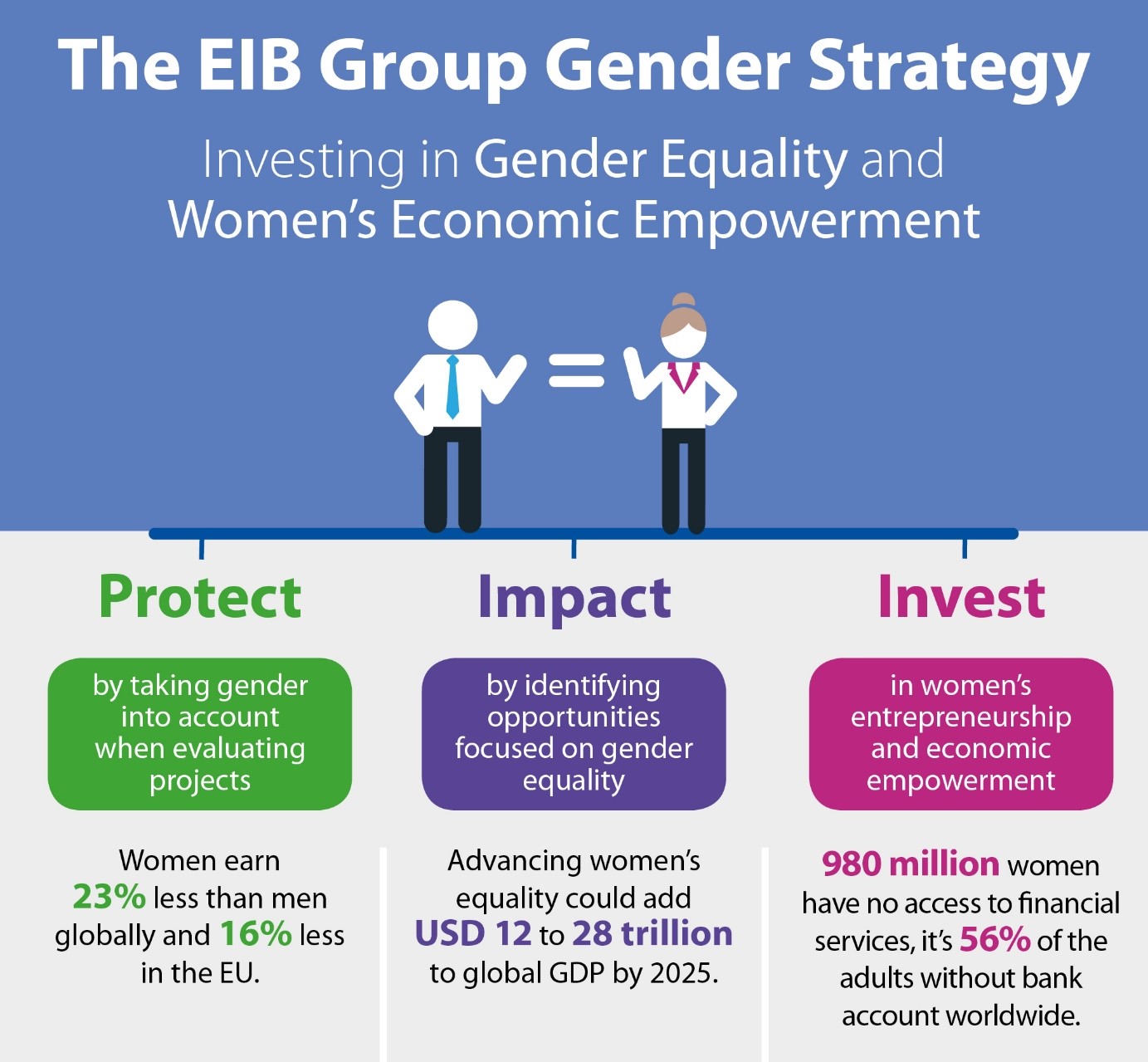 Supporting female entrepreneurs in Ethiopia and Kenya
More information:
The EIB gender equality initiatives
EIB Strategy on Gender Equality and Women's Economic Empowerment.