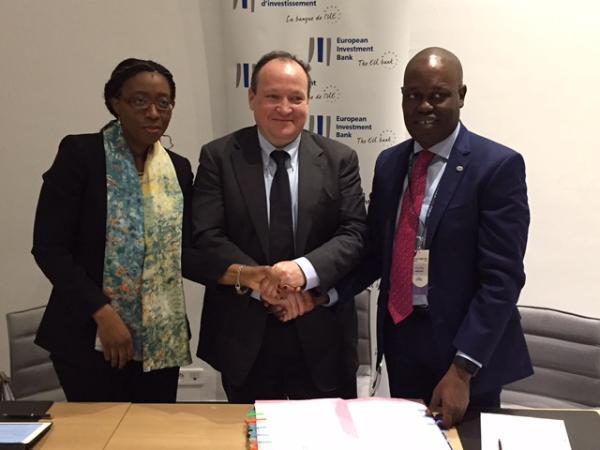 IFC, a member of the World Bank Group, the European Investment Bank (EIB) and Ecobank Transnational Incorporated (ETI), parent company of the Ecobank Group and leading pan-African full-service banking group, today signed a landmark risk-sharing agreement that will help fill the gap in financing for small and medium sized enterprises in some of Sub-Saharan Africa's poorest and most fragile countries.
Under the agreement, EIB, which is already a key partner in IFC's Global SME Finance Facility, will join IFC's existing risk-sharing facility with ETI. The two institutions launched that facility in May 2015. EIB and IFC will share 25 percent of the risk in the $110 million facility, alongside ETI. The facility is designed to overcome the challenges of lending to smaller businesses which have a higher risk profile.
Speaking at the sidelines of 2016 Africa CEO Forum in Abidjan, IFC's Director for Western and Central Africa Vera Songwe said "SMEs in Africa face a huge funding gap, and partnerships like this between IFC, EIB and ETI are critical to helping these SMEs and economies to grow and create jobs. By leveraging IFC's wide network of partners, the unique structure of the Global SME Finance Facility is able to target the finance gap more effectively than a single IFI, DFI or donor can on its own."
Ambroise Fayolle, Vice President, EIB, said "As the EU bank, the European Investment Bank is strongly committed to supporting private sector investment in Africa.  The new agreement signed today will directly benefit SMEs across Sub-Saharan Africa, including in Côte d'Ivoire, fostering sustainable development and job creation. Every year, the European Investment Bank invests Euro 2.5 billions in Africa to enhance access to finance for SMEs and micro-enterprises, to develop social and much needed economic infrastructures, and to promote climate action"
Ade Ayeyemi, Group Chief Executive Officer of Ecobank, said "This agreement buttresses our continued commitment at Ecobank to supporting small and medium scale enterprises in Africa. Their financing and growth is an important part of the development of the private sector in Africa and the overall growth of our economies."

The risk-sharing facility agreement signed today will see IFC, EIB and EIB collaborate in countries where more than 50 percent of the population live in poverty, unemployment is high and infrastructure is poor, which exacerbat the operating conditions for smaller businesses. The facility will target SMEs in Burundi, Chad, Côte d'Ivoire, Democratic Republic of the Congo, Guinea, Mali and Togo.
IFC and Ecobank enjoy a long-standing collaboration dating back to 1993. ETI's unparalleled network across Africa has helped extend financial access in difficult environments at a scale that few other IFC-partner financial institutions can match.
The EIB is the long-term lending arm of the EU and a key IFC partner. IFC and EIB co-invest in many projects around the world and developed a particularly strong partnership during the 2008 financial crisis. EIB contributed $100 million to the Global SME Finance Facility in 2014, with the particular objective of targeting SMEs in Africa.
The Global SME Finance Facility is a blended finance vehicle which integrates both investment and advisory services to help banks reach more SMEs, launched in April 2012 in response to a call from the G-20 to bridge the trillion dollar SME financing gap. The Facility is truly unique as it mobilizes funding from donors, international finance institutions and the private sector, to help banks de-risk and scale up SME lending. The facility targets SMEs that don't have access to finance, including women-owned SMEs, agriculture and climate-related businesses and those in fragile states.
The facility has a wide geographic focus covering all IDA countries, and has already committed to 92 projects in 27 countries, 15 of which are classified as fragile and conflict affected states. By the end of December 2015, the facility had already made more than 100,000 SME loans, worth a total of $6,4 billion. Its unique structure has allowed it to make some life-changing investments. The United Kingdom's Department for International Development (DFID) was the facility's first partner, with a $120 million contribution to both advisory services and blended finance. Since then, IFC has committed $595 million to projects under the Facility, up from its original commitment of $200 million.