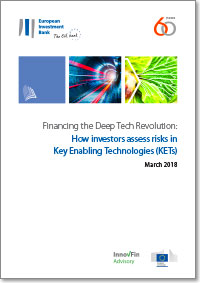 Description
This study highlights that, despite the exceptionally good market conditions in the financial markets, not all companies benefit from such conditions the same way. While there is relatively good support for seed and first series of funding, many research-driven companies find it hard to raise much needed growth capital to scale-up their businesses after first commercial success.
The study also shows that it is not enough to have risk-sharing financial products to resolve KETs companies financing needs. KETs companies are still too little aware of these and can benefit from expert financial advice to become "investor-ready". Similarly, bankers and financial investors need to find ways to overcome a limited understanding of frontier technologies and the underlying market potential that may lead them to shy away from worthwhile investments.
The study was carried out by InnovFin Advisory.