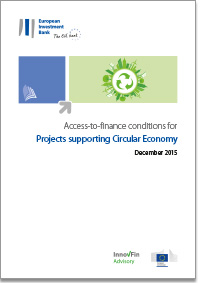 Description
This study, carried out under the InnovFin Advisory mandate, reviews the access-to-finance conditions for the circular economy, in particular three key circular economy business model transitions, and proposes potential solutions that could catalyse investments into the sector.
The circular economy aims to keep products, components and materials in the economy for as long as possible through re-use, repairing and recycling. It has enormous potential for creating a sustainable and competitive advantage for Europe in global markets, but it will not be an easy task to achieve a circular economy without fundamental changes in the way we work and how we design, produce, consume and finance our activities.
The study finds that the transition to a circular economy is complex but imperative to pursue and that only a 'systemic approach' will be effective. Market forces alone could create a circular economy but with the risk of a slow transition and high opportunity costs. Circular economy projects go hand in hand with specific market and/or technology risks. The study discusses and illustrates the financial needs and implications of this type of projects.
The study recommends among others the expansion of InnovFin's eligibility criteria to include non-technological innovation, such as business model innovation. Furthermore, it suggests to setup a dedicated circular economy finance support platform bringing together the European Commission, the EIB, National Promotional Banks (NPBs) and private sector investors in order develop knowledge, intelligence and create awareness with three specific pillars: 1) think tank and monitoring, 2) information dissemination, 3) investment advisory and potentially financing.
The study was carried out by InnovFin Advisory.