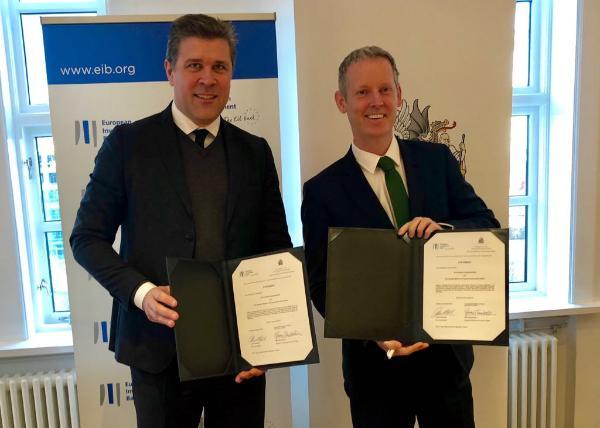 EUR 1 Bln added to the available envelope for EIB investments in EFTA countries
Increase due to enlarged demand and pipeline, important focus on sustainability
During an official visit to Iceland, EIB Vice-President Andrew McDowell announced the extension and expansion of the Bank's "EFTA Facility" under which it invests in the four EFTA countries; Iceland, Norway, Switzerland and Liechtenstein. The investment envelope will be extended with a further four years and receive a top-up of EUR 1 billion, available as EIB loans in all four countries.
This increase, available until 31 December 2021, is a rise compared to the EUR 800m top-ups the EFTA facility had seen in previous four-year extensions. The EIB's Board of Directors voted to enlarge the available envelope in response to heightened interest in the facility and a growing pipeline. Vice-President Andrew McDowell, responsible for operations in EFTA countries, made the announcement after meeting with Iceland's Minister of Finance and Economic Affairs Bjarni Benediktsson, earlier this morning.        
Minister Benediktsson commented: "It is good to see that Isavia and other Icelandic companies will retain access to loans for important investments in infrastructure, without guarantees from either the government or Reykjavik City, from a multinational investment bank the size of the EIB, as the Bank can offer one of the best credit terms in Europe. This is clear sign that the Icelandic economy is doing well internationally. "
Vice-President Andrew McDowell, said: "In-line with its climate priorities, the EIB has financed many renewable energy projects under the EFTA facility. Iceland is one of the forerunners in developing geothermal energy production, and over the years EIB has contributed to the financing of about 600 MW worth of power generation in the country. With one billion euro available for the coming 4 years, the Bank stands ready to finance more projects that further the economic integration between the EU and EFTA."
He added: "The EFTA facility contributes to further economic integration between the EU and EFTA countries, our closest economic neighbours. EIB financing is open for nearly all sectors and is able to support even very large and important projects like CERN's Large Hadron Collider in Switzerland, or the Hellisheiði geothermal plant near Reykjavík."
EU Ambassador to Iceland Michael Mann commented: "This major funding opportunity for the EFTA countries reflects the fact that they are the EU's closest partners, tightly interlinked to the EU's own development via the EEA Agreement and other bilateral arrangements. Our cooperation, not only economic but also political and cultural, remains mutually beneficial and we look forward to it growing stronger in the future."