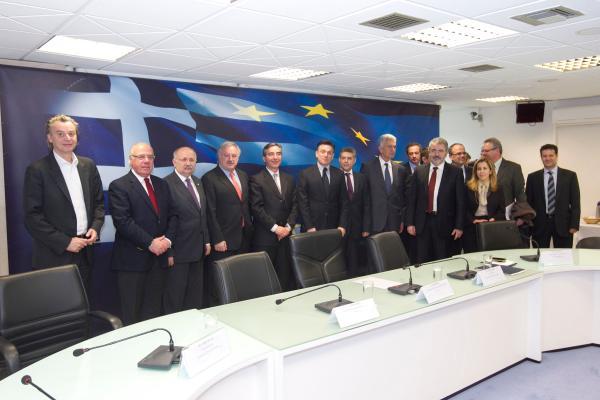 The European Investment Bank (EIB) signed three agreements totalling EUR 158 million for the establishment of Urban Development Funds (UDF) with EFG Eurobank Ergasias, the Investment Bank of Greece (IBG), and Piraeus Bank. These funds will be invested in urban projects in a number of regions in Greece.  The EIB acted in its capacity as the Manager of the JESSICA Holding Fund for Greece.
Aiming to create more competitive, socially inclusive and sustainable urban areas in Greece, the three UDFs will invest the above sum over the next four years.  Their investment portfolio may include urban projects such as: rehabilitation of deprived urban areas, basic infrastructure works, development of high-technology clusters and added value infrastructure, water and waste management, energy networks, and energy efficiency.
The above sum will be invested in the following regions:  
EFG Eurobank Ergasias will invest approximately EUR 68 million into urban projects located in the regions of mainland Greece (40 million) and the Peloponnese (28 million);
Investment Bank of Greece will invest approximately EUR 50 million into urban projects located in the regions of Eastern Macedonia and Thrace (10 million), North Aegean (10 million), Western Macedonia (15 million) and Epirus (15 million); and
Piraeus Bank will invest approximately EUR 40 million into urban projects located in the regions of Central Macedonia (20 million) and Thessaly (20 million).
The Ministry of Development, Competitiveness and Shipping, which is the Managing Authority for the JESSICA initiative in Greece, established a JESSICA Holding Fund (HF) within the EIB in 2010 with the aim of deploying EU Structural Funds for revitalisation investments in cities.
EFG Eurobank Ergasias is a member of Eurobank EFG Group, a European banking organization present in 10 countries with total assets of EUR 81.6 billion.
IBG is the Investment Banking and brokerage services arm of Marfin Popular Bank Group.
Piraeus Bank leads a group of companies covering all financial and banking activities in the Greek market. Piraeus Bank Group has an international presence, focused in South-East Europe and the Eastern Mediterranean, but also in the financial centres of London and New York.