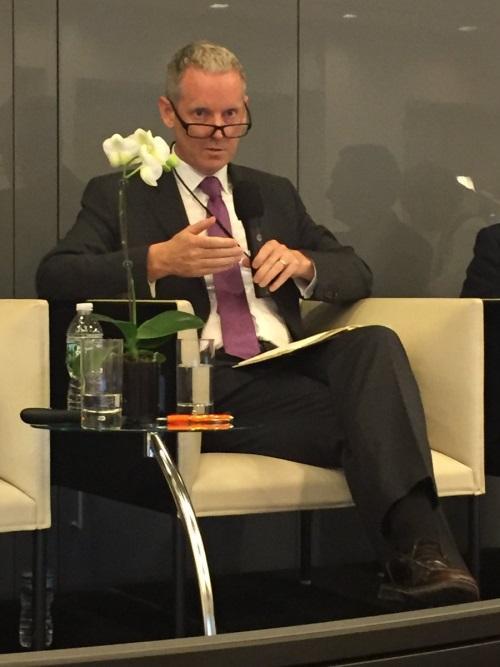 The European Investment Bank collaborated with the European Money and Finance Forum (SUERF), Columbia University | SIPA and Société Générale to hold the second annual SUERF conference in New York. Under the theme, "Globalisation Dynamics - EU and US perspectives" the conference brought together leading policymakers, experts and practitioners form both sides of the Atlantic to debate globalisation and the international economic order from a transatlantic perspective. The conference addressed issues such as the changing shape of Europe and its institutions; the role of monetary policy and prospects for normalisation; and the reasons for the slowdown in global trade.  
A key theme was the need to "fix the roof while the sun is shining". EIB Vice-President Andrew McDowell took part in the first panel on European institutions. In the context of debates on creating greater EU-level capacity for fiscal policy, Vice-President McDowell stressed that the investment challenge that Europe faces is not only cyclical, but also structural. The structural fall in infrastructure investment constitutes an issue that needs to be addressed at the EU level, with infrastructure gaps set to have a debilitating impact on future potential output, the process of economic convergence and the cohesion of the EU. 
Marco Buti, Director General of DG ECFIN of the European Commission, described the progress that is being made in reforms to complete the single market and strengthen the Euro area, and pointed out some of the areas where agreement is most likely in the near term.
Two panels on "Globalisation, fair trade and equality" and "Shifting tides of the savings glut" were chaired by Debora Revoltella and Natacha Valla of the EIB Economics Department, who also played key roles in organising the event. The need to seize on opportunities to invest more in education and skills to enhance long-term productivity growth was an important theme in the debates.
On monetary policy, Simon Potter of the Federal Reserve Bank of New York used his speech to express confidence that a planned and gradual process of normalizing the Federal Reserve balance sheet could be achieved without threats to financial stability. In a similar manner, Peter Praet, Executive Board Member of the European Central Bank, noted that while the euro area recovery remains solid, broad-based and resilient, the economy has yet to make sufficient progress towards a sustained adjustment in the path of inflation. He emphasised that the ECB will continue to provide a stimulus through its policy instruments that is carefully calibrated in line with the evolving macroeconomic conditions.
Participants' presentations are available through the SUERF website.