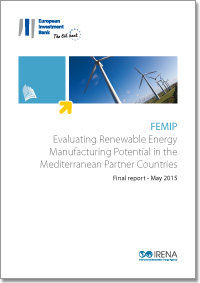 Description
This document presents the findings of a study commissioned and jointly financed by the European Investment Bank (EIB), under the Facility for Euro-Mediterranean Investment and Partnership (FEMIP) Trust Fund, and the International Renewable Energy Agency (IRENA).
The study aims at assessing the capability of a selection of Mediterranean Partners Countries (MPCs) to develop local renewable energy manufacturing industries in the Mediterranean Partner Countries with a special focus on three pilot countries: Morocco, Tunisia and Egypt. The study provides also recommendations on the basis of the discussions held with stakeholders met in the three pilot countries.
They were elaborated in response to the main difficulties and expectations expressed by these actors and with the objective to overcome the key barriers identified. They also capitalize upon the experience from other countries that have successfully developed RE manufacturing capacities.