Water and wastewater management
A safe and reliable supply of water and the protection of water resources are essential for human life and ecosystems. By 2025, 800 million people will be living in countries or regions with absolute water scarcity, and the stress of diminishing water resources will be felt by two-thirds of the world's population. This, alongside ageing or insufficient infrastructure and poor water and wastewater management has a lasting impact on people, economic activities and the environment.
As the largest lender to the global water sector to date, with almost EUR 64bn for some 1 400 projects, we are making water security for economic growth a priority. In 2015, we provided nearly EUR 4bn in finance for water related projects, bringing access to safe drinking water to 21 million people and improved sanitation to 20 million people.
Approach
The EIB supports investment to:
increase secure access to water resources
protect against destructive water-related events
ensure reliable provision of sustainable and affordable water and wastewater-related services both in quantity and quality to all stakeholders, and
promote the increase in energy efficiency measures and recovery mechanisms.
For wastewater our lending comprises facilities for treatment and disposal of residual waste, and increasingly, infrastructure aimed at increasing the levels of materials and bio-waste recycling, where the latter can also enable generation of renewable energy from bio-gas.
This integrated approach - water for energy and at energy for water - aims to ensure that both water and energy resources are developed sustainably  and that water and energy services are produced and consumed efficiently. Efficient allocation is based on the consideration of all end-user needs and is therefore a cornerstone of water, energy and food security.
Our water financing in numbers
---
---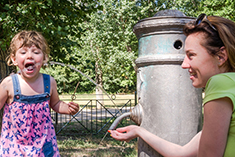 Flexible financing helps Italian water operators upgrade leaky reservoirs and fix old pipes
---
Until now, chemicals have been the only products available to eliminate waterborne bacterial risk. In France, the small firm Amoéba manufactures an effective, harmless and less corrosive biological biocide.
---
---
---
Products
We have a wide range of products to support public and private investments offering flexibility, expertise and creativity to get projects off the ground

---
---