The EIB in Ireland
In 2016, the EIB invested EUR 825 million in the Irish economy. 50% of this went towards innovation, with a further 35.5% going to infrastructure. 14.5% of our investment in Ireland was for environmental projects. Over the past five years (2012-2016) the EIB has invested EUR 3.7 billion in the Irish economy.
The total investment of the EIB Group (the European Investment Bank and the European Investment Fund) in Ireland in 2016 was EUR 950 million.
---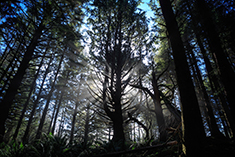 The Sitka spruce is one of the largest species of evergreens in the world. It can grow to nearly 100 meters tall, at an astonishing pace of 1.5 meters per year, and have a trunk diameter of 5 meters. The largest one currently known has an estimated trunk volume of 337 cubic meters – surely enough to produce more than enough paper to print all the copies of Ulysses sold during James Joyce's lifetime just from a single tree.
---
Did you know the EIB has provided more than EUR 512 million in support of universities in Ireland over the past five years? Our latest loan will facilitate Trinity College Dublin implement its investment programme, including the construction of the new Trinity Business School, the development of campus student accommodation at Oisín House, and new premises for Trinity's Institute of Population Health in Tallaght.
---
---
---
How to receive EIB support in Ireland:

---
---