EIB and COP
The EU bank took part in COP22 (Marrakech, 7 to 18 November). Jonathan Taylor, Vice-President responsible for climate action and energy, as well as various EIB experts, explained how we are helping the global community implement the Paris agreement and fight climate change in Africa and around the world.
---
"The EIB's report on short-lived climate pollutants is a very useful contribution to our work at the Climate and Clean Air Coalition and our collective efforts to understand better how we can go forward in the context of fighting climate change and protecting the health of people and our ecosystems. We very much welcome the EIB's commitment to reducing short-lived climate pollutants."
Helena Molin Valdés, Head of the Climate and Clean Air Coalition, welcoming the EIB's report on short-lived climate pollutants (SLCPs)
---
The EIB team at COP – Video playlist
"In shifting trillions of dollars into green investments, it is crucial that investors can put their money directly into green, climate-smart projects. Public banks such as mine – the Bank of the EU – have a key role to play"
Jonathan Taylor, EIB Vice-President
The Noor Ouarzazate solar power complex harnesses the potential of the most abundant source of energy in North Africa – the sun. Thanks to the support of the EU and the EIB, among others, Morocco has started its own path towards becoming a sustainable-energy country. Noor Ouarzazate is a hands-on example of how the COP21 agreement is being converted into COP22 actions.
---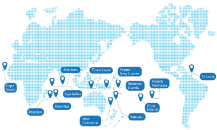 Small islands are among the most vulnerable to the effects of climate change. Discover in this interactive map how the European Investment Bank is helping them adapt to climate change and mitigate its effects.
---
---
---
In 2015, we…
exceeded our 25% financing target towards climate action.

remained the largest multilateral provider of finance to support climate action.

channeled EUR 2.2bn for developing countries.
On the sidelines of COP21, the EIB and 25 other leading financial institutions from around the world adopted a set of voluntary climate mainstreaming principles with the aim of improving the effectiveness and transparency of climate action. Specifically, they undertook to improve climate performance, manage climate risks, promote climate smart objectives, account for climate action, commit to climate strategies, and turn the talk into reality.
---
---
As the EU bank, the European Investment Bank (EIB) supports the transition to a low-carbon, environment-friendly and climate-resilient economy. In our climate strategy, published in 2015, we commit to ensuring that at least 25% of all EIB lending supports climate-related investment.
For its lending for climate action in developing countries, this figure will rise to 35% by 2020. Over the next five years we will provide around EUR 100bn for climate-related projects as we help turn the ambitious agreement approved at the COP21 climate conference in Paris into reality.
Find out how we promote low-carbon, environment-friendly and climate-resilient growth globally    
---
---
Stepping up our climate action finance in developing countries is not just about lending more money for big projects. We find innovative ways to finance more community-based projects that generate lasting results for local people to adapt to climate change. 
---
---
What do a windmill in the Netherlands, apartment buildings in Romania, forests in Turkey and a metro in Ecuador have in common? They all benefit from EIB climate finance. In the last five years we have contributed over EUR 90 billion to this goal. With benefits for our environment, our economy and our quality of life, we all gain from climate action, and most importantly we help to preserve our unique planet.
---
---
Addressing climate challenges in Africa
Climate action is at the heart of everything the EIB does. On the occasion of COP21 in Paris towards the end of 2015, the European Investment Bank pledged to beef up investment in climate change mitigation and adaptation. Sub-Saharan Africa, for instance, has huge potential in terms of wind and solar power, and also hydroelectricity and to some extent geothermal energy. We are also investing in equity funds which focus on renewable energies, and small-scale projects with a central renewable energy component.
As a mountainous country, Lesotho enjoyed abundant water resources in the past. However, in recent years the dry seasons appear to be longer and the rainy seasons shorter and less reliable. As a result, water has become scarce whilst demand has increased due to economic growth and urbanisation.
The Metolong dam and water supply system, supported by a EUR 140 million loan from the EIB, is now providing clean water to a population of around 385 000 people in Maseru and other urban areas in the country… even in extreme weather conditions: during the El Niño phenomenon, that lead to a full loss of one rainy season in the region in 2014-2015, the new infrastructure significantly increased the drought resilience of the water supply system. The Metolong project represents EIB's commitment to improving access to water and quality of life in Africa.
---
For the MENA region and the African continent as a whole, investing in water resources is an important element of the EIB's support for regions and communities already facing the effects of climate change. 
In Jordan, an EIB loan is blended with EU investment grants to support the Wadi Al Arab Water System II project. This is addressing the country's pressing and urgent issue of water scarcity, made more acute by the influx of Syrian refugees.
As the EU's bank the EIB is broadly driven by the European Union's external policies in the neighbourhood. We have been working closely with the Jordanian authorities for example on the Water Sector Capital Investment Plan for Jordan 2016-25. This sets out of the next 10 years the measures, investments and actions needed to manage scarce water resources. The Mediterranean Hotspots Programme, which will support priority investments with a mixture of EIB and EU resources. 
---
---
---
---
---

---
---