EU Eastern neighbours
The Bank's activities in the region aim at supporting the goals set up by the EU's European Neighbourhood Policy. This is done by financing projects that promote prosperity and increased regional integration, which contributes to the stability of these regions and helps forging stronger intraregional partnerships.
The Bank's activities in the region promote growth and employment, intraregional trade, and help to protect our common environment and to mitigate climate change by supporting low carbon and climate resilient growth. The current EUR 4.8bn mandate runs from 2014 to 2020 and covers Armenia, Azerbaijan, Belarus, Georgia, Moldova, Russia and Ukraine. 
How do we help?
local private sector development, in particular support to SMEs,
development of social and economic infrastructure, and
climate change mitigation and adaptation.
In 2014 the EIB also set up a Neighbourhood Finance Facility (NFF), a EUR 3bn facility under which financing will be extended at the EIB's own risk (i.e. without EU guarantee) in the Eastern Neighbourhood region, including Russia, and the Southern Neighbourhood (FEMIP) region.
The facility enables the Bank to support EU Foreign Direct Investments (FDI) as well as infrastructure projects such as transport, telecommunications and energy in the region.
In focus: 10 years of operations in Georgia
Since 2007, Georgia and the EIB have a long and fruitful cooperation, underlined by a clear vision of developing the country towards closer integration with the European Union.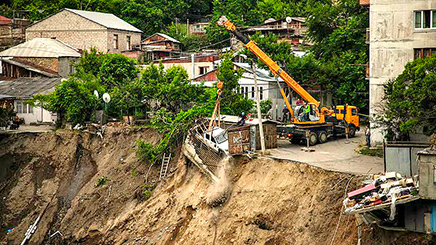 After a catastrophic flood ravaged the country in 2015, the EIB quickly stepped in to help Georgia rebuild in the aftermath and set up infrastructure for improved trade.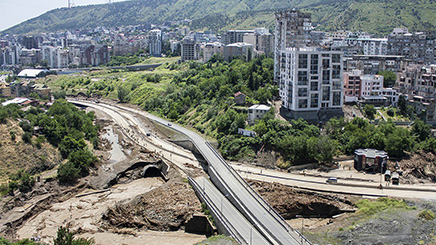 On the occasion of a decade of operations in Georgia, the EIB reaffirms its support with a new loan aiming to upgrade the country's priority road infrastructure.
---
---
Projects
Since the first EIB loan signed in 2003 and until the end-December 2014, the EIB has signed 77 operations totalling EUR 6,039 million in the region for major investment projects (including 18 operations for EUR 1,175 m in 2014).
---
---
Lviv's roads saw 5958 accidents, 47 fatalities and about a thousand injuries last year. These figures are even higher in the rest of the Ukraine. The European Investment Bank's Eastern road safety projects will make roads safer for 3.3 million users.
---
---
---

---
---