Publications
---
/eib.org/img/publication/economics_cesee_bls_2015_h1_en.jpg

Results of the EIB CESEE Bank Lending Survey at the regional and at the single country level for H1-2015.
---
/eib.org/img/publication/eib_document_cover_en.jpg
In its meetings of 14 July and 21 September 2010, the EIB Board of Directors approved the proposal for the establishment of a multi-purpose and multi-sectoral fund, the Eastern Partnership Technical Assistance Trust Fund (the "EPTATF").
---
/eib.org/img/publication/factsheet_sweden_2014_en.jpg
Under 2014 tillhandahöll Europeiska investeringsbanken (EIB) lån till nio projekt i Sverige motsvarande totalt 1,4 miljarder euro.
---
/eib.org/img/publication/factsheet_germany_2014_en.jpg
In 2014 the European Investment Bank (EIB) granted loans totalling EUR 7.73bn in Germany, an increase of 3.8% on the previous year's already high level of lending (2013: EUR 7.45bn).
---
/eib.org/img/publication/sme_report_2014_en.jpg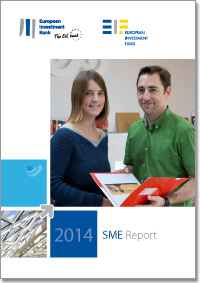 The EIB Group is committed to remaining a key pillar of the EU architecture to stimulate productive investment for growth and employment. Group support amounted to EUR 28.1 billion of new finance committed, while at the same time some 290 000 small businesses were reached during 2014, employing some 3.9 million people worldwide.
---
/eib.org/img/publication/microfinance_outside_the_eu_en.jpg
The EIB Group has a long track record in microfinance both within and outside the European Union. We help leading microfinance providers, investment fund managers and other stakeholders to increase sustainable and responsible access to finance for micro and small-sized enterprises.
---
/eib.org/img/publication/factsheet_finland_2014_en.jpg
In 2014, the European Investment Bank (EIB) provided loans for 12 projects in Finland totalling more than EUR 1bn.
---
/eib.org/img/publication/eib_occo_activity_report_2014_en.jpg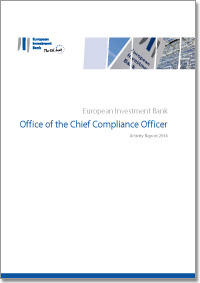 This report describes the organisation and the work of the EIB Compliance function, the Office of the Chief Compliance Officer ("OCCO"), during 2014.
---
/eib.org/img/publication/factsheet_slovenia_2014_en.jpg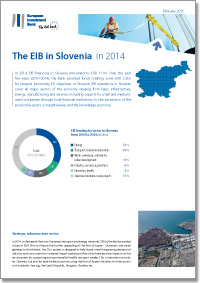 In 2014, EIB financing in Slovenia amounted to EUR 111m. Over the past five years (2010–2014), the Bank provided funds totalling some EUR 2.3bn for projects promoting EU objectives in Slovenia.
---
/eib.org/img/publication/eib_rem_annual_report_2014_overview_en.jpg
This flyer is a summary of the 2014 Report on results outside the EU.
---

---