Publications
---

The following brief overview of the standards outlines the promoters' responsibilities in their application to EIB projects.
---

This edition of EIB INFO puts the spotlight on projects that drive innovation and skills, but also highlights the value of innovation partnerships.
---

With its financing effort maintained in 2013, the EIB has reached over EUR 5bn of new financing operations in the Mediterranean region since 2011.
---
A estratégia comporta diferentes níveis de prioridade, com duas áreas de enfoque principais: Infraestruturas e setor financeiro.
---
Uma nova abordagem estratégica da UE para aumentar o impacto da política de desenvolvimento da União.
---
A presente brochura é um resumo do segundo relatório sobre o Quadro de Medição de Resultados (Results Measurement Framework – REM) das operações do BEI no exterior da UE.
---
Road accidents are a major health problem, both globally and in Europe. They are also a cause of severe economic losses. The EIB has long promoted EU road safety best practices through investment in safer roads and the design of safer vehicles.
---

O presente relatório abrange as operações nos países ACP e nos PTU, realizadas ao abrigo do Acordo de Cotonu e da Decisão de Associação Ultramarina e financiadas pela Facilidade de Investimento e pelos recursos próprios do BEI. As operações na Á...
---
The carbon footprint report helps our management, staff and other stakeholders to gain a better understanding of our impact on climate change resulting from our internal operations. Detailed analysis of the different activities and their emissions allows key decision makers at the Bank to measure the impacts of carbon abatement activities and identify areas where further improvements could be made.
---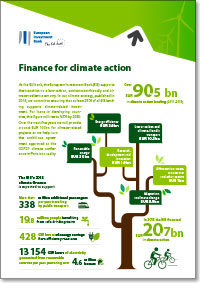 In 2013, the EIB invested EUR 19bn in climate action projects, and this figure reaches EUR 88bn for the last five years (2009-2013).
---

---