Publications
---
Desde 1993, el Banco ha apoyado 87 proyectos con un importe total firmado de 6 300 millones de EUR, en 13 países de América Latina. Durante el periodo que comprende el mandato actual, 2007-2013, los préstamos del BEI financiaron 33 proyectos en la región a razón de 3 700 millones de EUR. La acción por el clima es el objetivo principal de los préstamos del BEI en la región.
---
To date, EIB financing in Asia amounts to EUR 5.1bn, with China accounting for 45% of total financing, India 21% and Vietnam 17%.
---
The EIB has significantly stepped up its lending activity in the region during the last four years to reach a record level of EUR 1.8bn in 2013.
---
Through a mixture of loans and advisory services, the EIB plays a critical role in addressing regional economic imbalances and raising living standards across the EU.
---

This paper discusses measures to mitigate potential bank lending constraints on recovery: capital market development and securitisation, credit guarantees and measures advance NPL resolution.
---

The present report covers developments under the new initiative in the period up to end-July 2014. Under the plan, over 600 projects amounting to EUR 33.6 billion have been approved. Assistance under the JIAP has already exceeded each institution's target for the whole period, thus demonstrating the unwavering commitment of the three IFIs to the region.
---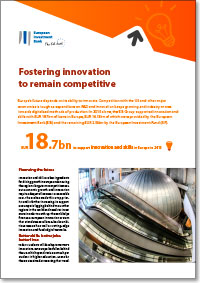 The EIB is a major partner in supporting projects to develop innovation and skills for a growing economy, from financing ambitious large-scale research to backing small, specialised spin-outs or funding digital networks.
---

The EIB's activity in Luxembourg has traditionally focused on three main areas: the public sector; the corporate sector; and support for SMEs.
---
The EIB Group AML-CFT Framework aims at preventing the EIB Group, its governing bodies, staff and counterparties from being associated or used for money laundering, financing of terrorism or other criminal activities.
---

This brochure provides detailed information on the whys and hows of MED 5P, from the services it provides to how to request support to MED 5P through the EIB.
---

---