Publications
---

In this new issue of EIB Info we look at how the EIB has been able to step up its own activities to support the creation of growth and jobs over the past year, and showcase projects supporting Europe's drive for innovation and improving skills.
---
The current interim report updates the results of the first report on the implementation of the Joint Action Plan (issued in October 2013) to cover the period to end-2013.
---
Στο φυλλάδιο αυτό εξηγούνται με σαφήνεια ο ρόλος του ΕΤΕπ, &...
---

The EIB Group annual Corporate Governance Report summarizes the most significant corporate governance developments of the year 2013.
---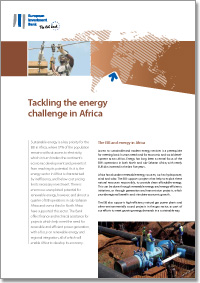 Sustainable energy is a key priority for the EIB in Africa. Almost a quarter of recent EIB operations in sub-Saharan Africa, and over a third of recent operations in North Africa, support the energy sector.
---
In 2013, the EIB continued to assist the implementation of projects financed in the previous years, maintaining a steady flow of loan disbursements (EUR 60m) into the country.
---
During 2013, the European Investment Bank provided EUR 1.3bn in long-term low-cost loans for key investment in projects in the Netherlands.
---
Since January 2013, the EIB has been implementing a European recovery plan, which in France has meant an 80 % rise in its activity, from EUR 4.3bn in 2012 to more than EUR 7.8bn this year.
---
The study, carried out by the Frankfurt School of Finance and Management, is based on a literature review, surveys of small entrepreneurs and consultations with government officials, staff of supervisory institutions, international donors as well as financial institutions in Egypt, Jordan and Tunisia. It may serve as a basis for pilot actions to test innovative approaches in enhancing access to finance for SMEs in the Mediterranean partner countries.
---
This "Med-ELENA" study, funded by the FEMIP Trust Fund, was commissioned in order to assess in more detail how the Bank could support the needs of nascent energy efficiency and small scale renewable energy investments in the region.
---

---