Veröffentlichungen
---

In this new issue of EIB Info we look at how the EIB has been able to step up its own activities to support the creation of growth and jobs over the past year, and showcase projects supporting Europe's drive for innovation and improving skills.
---
The current interim report updates the results of the first report on the implementation of the Joint Action Plan (issued in October 2013) to cover the period to end-2013.
---
Dieses Faltblatt erklärt in allgemein verständlicher Form die Rolle der EIB sowie ihre Aufgaben, ihre Tätigkeiten und ihre Arbeitsweise.
---

Im Corporate Governance-Bericht der EIB-Gruppe für 2013 werden die wichtigsten Entwicklungen in Bezug auf Aspekte der Leitung und Kontrolle zusammengefasst.
---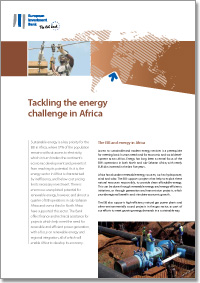 Ein wichtiger Finanzierungsschwerpunkt der EIB in Afrika liegt in einer nachhaltigen Energieversorgung.
---
In 2013, the EIB continued to assist the implementation of projects financed in the previous years, maintaining a steady flow of loan disbursements (EUR 60m) into the country.
---
During 2013, the European Investment Bank provided EUR 1.3bn in long-term low-cost loans for key investment in projects in the Netherlands.
---
Seit Januar 2013 führt die EIB ein europäisches Konjunkturprogramm durch. In Frankreich hatte dies eine Steigerung ihrer Tätigkeit um 80 Prozent zur Folge, die von 4,3 Milliarden Euro im Jahr 2012 auf mehr als 7,8 Milliarden Euro 2013 zunahm.
---
Die Studie der Frankfurt School of Finance and Management beruht auf einer Literaturrecherche, auf Befragungen von Kleinunternehmern und auf Gesprächen mit staatlichen Stellen, Aufsichtsbehörden, internationalen Geldgebern sowie Finanzinstitutionen in Ägypten, Jordanien und Tunesien. Sie eignet sich als Grundlage zur Erprobung neuer Lösungswege, um den Zugang von KMU zu Kapital in den Mittelmeer-Partnerländern zu verbessern.
---
Diese "ELENA-Studie für den Mittelmeerraum", die aus Mitteln des FEMIP-Treuhandfonds finanziert worden ist, wurde in Auftrag gegeben, um umfassender zu ermitteln, wie die Bank die Maßnahmen und kleinen Investitionsvorhaben unterstützen kann, die zunehmend häufiger in dieser Region in den Bereichen Energieeffizienz und erneuerbare Energien durchgeführt werden.
---

---