Veröffentlichungen
---
Since 1993, the Bank has supported 87 projects with a signed total of EUR 6.3bn, in 13 countries in Latin America. EIB lending in the period covered by the current mandate 2007-2013 provided finance of EUR 3.7bn in the region for 33 projects. Climate action is the main focus of the EIB's lending in the region.
---
To date, EIB financing in Asia amounts to EUR 5.1bn, with China accounting for 45% of total financing, India 21% and Vietnam 17%.
---
The EIB has significantly stepped up its lending activity in the region during the last four years to reach a record level of EUR 1.8bn in 2013.
---
Mit ihren Darlehen und Beratungsdiensten spielt sie eine wichtige Rolle dabei, die wirtschaftlichen Ungleichgewichte innerhalb der Union abzubauen und den Lebensstandard in der gesamten EU anzuheben.
---

This paper discusses measures to mitigate potential bank lending constraints on recovery: capital market development and securitisation, credit guarantees and measures advance NPL resolution.
---

Der aktuelle Bericht beschreibt die Entwicklungen, die im Rahmen der neuen Initiative bis Ende Juli 2014 stattgefunden haben. Bisher wurden insgesamt 33,6 Milliarden Euro für mehr als 600 Projekte genehmigt. Die drei am "Joint IFI Action Plan" (JIAP) beteiligten internationalen Finanzierungsinstitutionen haben damit das für den gesamten Zeitraum anvisierte Zielvolumen bereits übertroffen und ihr entschlossenes Engagement für die Region unter Beweis gestellt.
---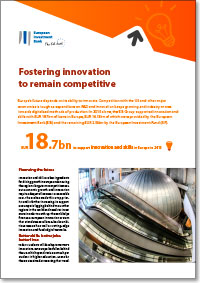 Die EIB ist ein wichtiger Partner für Innovation und Kompetenz. Ihr Engagement für mehr Wachstum hat viele Facetten: Sie finanziert ehrgeizige große Forschungsvorhaben, unterstützt kleine hochspezialisierte Spin-offs und treibt den Ausbau der digitalen Netze voran.
---

Bei der Darlehensvergabe in Luxemburg konzentriert sich die EIB seit jeher auf drei Bereiche: den öffentlichen Sektor, den Unternehmenssektor und die Unterstützung von KMU.
---
Mit ihren Regeln zur Bekämpfung von Geldwäsche und Terrorismusfinanzierung (AML-CFT) will die EIB-Gruppe verhindern, dass sie selbst oder ihre Leitungsorgane, Mitarbeiter und Geschäftspartner mit Geldwäsche, Terrorismusfinanzierung oder sonstigen Straftaten in Verbindung gebracht oder dafür missbraucht werden.
---

Diese Broschüre enthält detaillierte Informationen über die Gründe für die Fazilität und deren Funktionsweise sowie Angaben zu den angebotenen Dienstleistungen und dazu, wie die Unterstützung der EIB beantragt werden kann.
---

---