Veröffentlichungen
---
/eib.org/img/publication/bridging_the_finance_gap_for_smes_acp_en.jpg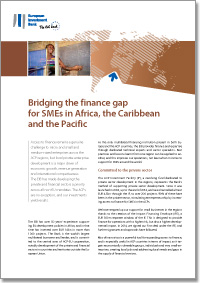 Access to finance remains a genuine challenge to micro and small and medium-sized enterprises across the ACP regions, but local private enterprise development is a major driver of economic growth, revenue generation and international competiveness. The EIB has made developing the private and financial sectors a priority across all non-EU mandates.
---
/eib.org/img/publication/ac_2014_en.jpg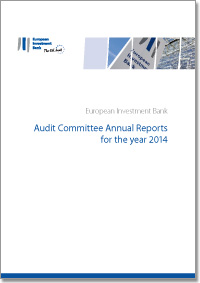 Diese jährlichen Berichte wurden vom Prüfungsausschuss der EIB erstellt. Bei dem Prüfungsausschuss handelt es sich um ein unabhängiges Gremium, das dem Rat der Gouverneure der EIB Bericht erstattet und dessen Mitglieder von diesem bestellt werden. Die Veröffentlichung dieser Berichte erfolgt in Einklang mit dem Beschluss des Rates der Gouverneure der EIB vom 19. Juni 2015.
---
/eib.org/img/publication/energy_challenge_africa_en.jpg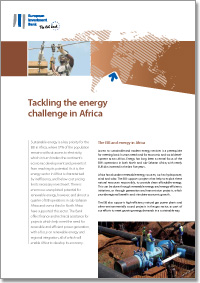 Sustainable energy is a key priority for the EIB in Africa. Almost a quarter of recent EIB operations in sub-Saharan Africa, and over a third of recent operations in North Africa, support the energy sector.
---
/eib.org/img/publication/acp_business_strategy_2015-2017_en.jpg
In line with the EU Agenda for Change, the EIB is concentrating on catalytic financing for private sector development in the ACP countries.
---
/eib.org/img/publication/impact_financing_in_acp_regions_en.jpg
Between 2003 and the end of 2014, the EIB channelled nearly EUR 4.5bn through the ACP Investment Facility (IF) to over 230 projects.
---
/eib.org/img/publication/ig_fraud_investigations_annual_report_2014_en.jpg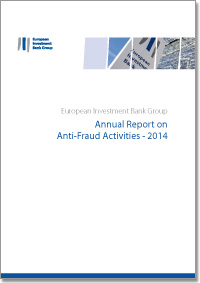 In diesem Bericht werden die Arbeit der Abteilung Betrugsbekämpfung innerhalb der Generalinspektion im Jahr 2014 sowie die bei Verdacht auf Betrug und Korruption ergriffenen Maßnahmen beschrieben.
---
/eib.org/img/publication/economics_cesee_bls_2015_h1_en.jpg

Ergebnisse der Umfrage, die die EIB zum Kreditgeschäft der Banken in den mittel- und südosteuropäischen Ländern vorgenommen hat, und zwar auf regionaler sowie auf einzelstaatlicher Ebene.
---
/eib.org/img/publication/eib_document_cover_en.jpg
In seinen Sitzungen vom 14. Juli und 21. September 2010 genehmigte der EIB-Verwaltungsrat den Vorschlag für die Errichtung eines Treuhandfonds für technische Hilfe in den östlichen Partnerländern ("EPTATF"), aus dem zahlreiche Projekte in verschiedenen Sektoren unterstützt werden können.
---
/eib.org/img/publication/factsheet_sweden_2014_en.jpg
Im Jahr 2014 unterstützte die Europäische Investitionsbank in Schweden neun Vorhaben mit Darlehen von insgesamt 1,4 Milliarden Euro.
---
/eib.org/img/publication/factsheet_germany_2014_en.jpg
2014 vergab die Europäische Investitionsbank (EIB) in Deutschland Darlehen im Gesamtbetrag von 7,73 Milliarden Euro. Dies entspricht einem Anstieg um 3,8 Prozent gegenüber dem ohnehin bereits großen Darlehensvolumen des Vorjahres (2013: 7,45 Milliarden Euro).
---

---