Press corner
Welcome to the EIB's press corner. On this page you will find our latest press releases and other relevant information for the media.
---
More than seven thousand children across the North West will benefit from new schools to be constructed with significant financial support from the EIB.  The eleven new build schools will be built on existing school sites in Blackpool, Wigan, Birkenhead, Chester, Manchester and Stockport. They represent the third batch of 46 new state primary and secondary schools to be built across the country under the Priority School Building Programme.
The EIB and the Flemish utility TMVW (Tussen-gemeentelijke Maatschappij der Vlaanderen voor Waterbedeling – Inter-municipal Association for Water and Sanitation) have signed an agreement for a loan worth EUR 100 million for local wastewater infrastructure in the Flemish region. The financing runs for 18 years and involves several specific modernisation and expansion projects to be carried out by TMVW in its field of operations as a wastewater utility.
The European Investment Bank (EIB) has agreed a financing deal with NV Bekaert SA in Belgium. The EIB will support Bekaert in fostering and reinforcing its competitive position on a global scale with a total of EUR 75 million for a 3-year innovation programme. The deal falls within the InnovFin program, launched by the European Investment Bank together with the EU to help safeguard Europe's economic future by spurring investment in research and innovation projects.
The European Investment Bank (EIB) is lending EUR 22.6 million to finance multi-sector projects located in the Municipality of Oradea. The loan will support investments related to the local road network and tourism.
EIB's CAB 2026 increased to EUR 1.25 bn2015 Green Bond Principles ("GBP") to be presented in London on 27/3Special CAB-Newsletter of the EIB to be presented in London on 27/3Total CAB issuance approaching EUR 8.5bn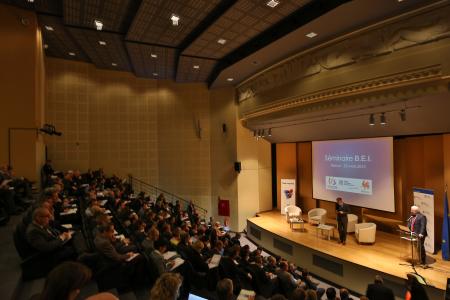 Operational teams of EIB managers and experts, led by Vice-President Pim van Ballekom, visited Namur on Monday morning to meet public and private project operators and the competent authorities from the Walloon Region. This visit was designed to present the EIB's financing opportunities in concrete terms, backed by examples for illustration purposes. This unprecedented work seminar in Belgium was welcomed unanimously by the participants.
Last June, Belfius Banque and the EIB launched a EUR 400m joint financing programme for the implementation of smart and sustainable projects in line with a "Smart Cities" approach - a European first. Nine months later and progress is excellent:  the first loans totalling EUR 35m for concrete projects have just been approved.  A considerable number of smart projects from towns, cities and inter-municipal utilities are currently being examined.  The "Smart Cities" movement is clearly forging ahead in Belgium too.
The EIB has become a member of The Currency Exchange Fund, TCX, a unique hedging vehicle that will allow the EIB to enhance its long-term lending in local currencies in Africa, the Caribbean and the Pacific. 
The EIB has agreed to support construction of seven new secondary schools in Hertfordshire, Berkshire and Bedfordshire that will improve education facilities and school life for thousands of children in the Home Counties.
On Thursday 19th March 2015, the EIB issued its first new Euro Area Reference Note (EARN) of 2015. The bond was priced at a spread of mid-swaps -30bps, from initial price thoughts of mid-swaps – 30bps area. This equated to a spread at the time of pricing of +5.8bps over the Bund 0.5% due February 2025. 

---