Press corner
Welcome to the EIB's press corner. On this page you will find our latest press releases and other relevant information for the media.
---
Consciente du rôle clef qu'est appelé à jouer le déploiement du numérique dans la compétitivité économique et l'attractivité des territoires, la Banque européenne d'investissement (BEI) a fait de la couverture en Très Haut Débit (THD) une de ses priorités d'action en France. Forte de son partenariat avec le réseau bancaire français, la Banque de l'Union européenne a ainsi mobilisé 750 millions d'euros pour répondre aux besoins de financement des Réseaux d'Initiative Public (RIP) lancés par des collectivités locales, leurs groupements ou leurs mandataires. Un financement qui s'inscrit d'emblée dans le cadre du Plan France Très Haut Débit dont l'objectif est de couvrir en très haut débit l'intégralité des territoires français d'ici 2022.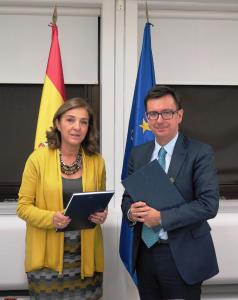 El Banco Europeo de Inversiones (BEI) y el  Reino de España han firmado un acuerdo de 515 millones de EUR para financiar inversiones públicas hasta el año 2018 en investigación, desarrollo e innovación  en España.  El acuerdo fue ratificado en Madrid por Román Escolano, vicepresidente del BEI,  y Carmen Vela, secretaria de Estado de Investigación, Desarrollo e Innovación.
The European Investment Bank has agreed to provide EUR 20 million to the Centre Hospitalier Territorial de Nouvelle Calédonie to support the construction of a new hospital complex on the outskirts of the capital of New Caledonia, Nouméa. The Médipôle facility will replace 4 older existing hospitals and allow a 30% increase in medical consultations.
The European Investment Bank (EIB) has signed a EUR 7.5m agreement with the Spanish automotive supplier Maier S. Coop. for its RDI activities in the field of automotive components. This is the first EIB transaction in Spain supported by "InnovFin – EU Finance for Innovators" under its MidCap Growth Finance instrument, with the financial backing of the European Union under Horizon 2020 Financial Instruments. "InnovFin MidCap Growth Finance" is specifically dedicated to improving access to risk finance for research and innovation projects of midcaps and SMEs in the European Union.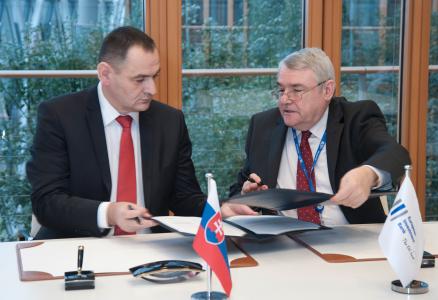 The European Investment Bank (EIB) is lending EUR 25 million to finance the development of public infrastructure in the Prešov Region (Eastern Slovakia). EIB funds will help to implement Prešov's Regional Development Strategy, the objective of which is to develop the region into one that is attractive for the local population, investors and visitors alike as well as to increase the level of economic development and the standard of living. In parallel and complementary to this loan the EIB will support the investment preparation of energy efficiency and renewable energy use in the region's public building stock via the European Union-funded ELENA facility.
The European Investment Bank (EIB) closed on 15 December 2014 the purchase of a EUR 196 million covered bond issued by UniCredit Bank Czech Republic and Slovakia, a.s (UniCredit Bank CZ&SK). The bond forms part of UniCredit Bank CZ&SK's EUR 5 billion international covered bond programme, which was launched last year. This first international bond has an issue size of EUR 800 million and an annual nominal coupon of 1.875%, with bullet maturity in December 2018. The EIB is the first investor to purchase the UniCredit Bank CZ&SK covered bond under this international programme; other investors are expected to join in 2015, when other covered bond transactions may follow.
The European Investment Bank (EIB) and SKB banka d.d. Ljubljana have signed a contract for the provision of EUR 100 million in long-term funds to be delivered in two tranches of EUR 50 million. The funds will be used to combat youth unemployment by financing SME and midcap company projects in Slovenia.
The European Investment Bank (EIB) is establishing a new EUR 200 million loan facility for Estonia to support investments in research and innovation, sustainable transport infrastructure and the development of SMEs. The EIB loan will help Estonia to successfully absorb EU structural funds over the period 2014 – 2020.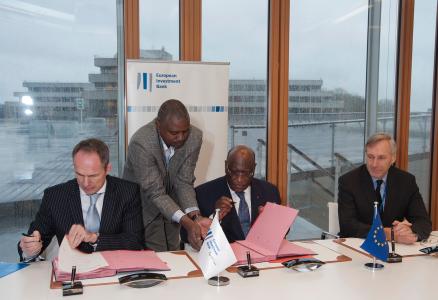 More than 200 000 people will be able to access clean water directly for the first time once a new project backed by the European Investment Bank is operational. Europe's long-term lending institution will provide EUR 21 million to expand clean water supply in Niamey, capital of the West African state of Niger. The project will also ensure clean water for the city during the dry season, when existing water distribution cannot cope with demand.
The Board of the EIB during its last meeting approved nearly EUR 11 billion of new loans in strategic infrastructure and innovation and in support of SMEs and mid-cap companies as well as new loans for Ukraine and Ebola vaccine research.

---