Press corner
Welcome to the EIB's press corner. On this page you will find our latest press releases and other relevant information for the media.
---
The Port of Cork marked a major milestone for the company today with the launch of the new Cork Container Terminal development in Ringaskiddy.
Portuguese municipalities and municipal companies will be able to take advantage of the financing provided by the EIB to foster employment and economic growth. The bank of the European Union has provided a EUR 750 million loan aimed at supporting selected investments defined under the Portugal 2020 Partnership Agreement.
In September 2017, President of the Réunion Region Didier Robert and EIB Vice-President Ambroise Fayolle officially launched "La Financière Région Réunion", a EUR 50m fund of funds subscribed by the Réunion Region and the EU. The goal of this innovative partnership mobilising public and private sector funds is to strengthen support for micro, small and medium-sized enterprises (MSMEs) in Réunion with two financial instruments: a debt instrument and an equity instrument.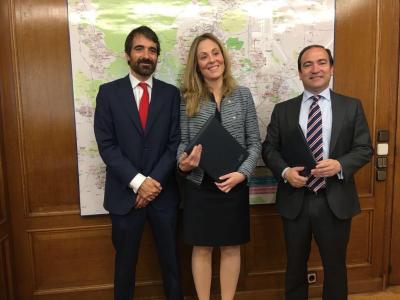 The Madrid metro is set to offer improved levels of efficiency, safety and comfort. The EIB has provided EUR 85m – the initial tranche of a EUR 200m loan to cover 50% of Metro de Madrid's investments until 2019 to upgrade and modernise its infrastructure. The aim of the project, which is supported by the Investment Plan for Europe (known as the Juncker Plan), is to improve the quality of the service offered by the Madrid metro. EIB Vice-President Emma Navarro and Metro de Madrid Chief Executive Francisco Borja Carabante signed the agreement today in Madrid.
La BEI et l'aéroport de la Réunion Roland Garros annoncent aujourd'hui la conclusion d'un financement de 100 M€ pour soutenir et accompagner la mise en œuvre du Plan stratégique de l'aéroport de La Réunion baptisée WELCOME dans un triple objectif de performance, de sécurité et de respect de l'environnement. L'accord de partenariat a été signé ce jour à l'aéroport de Roland Garros par Guillaume Branlat, Président du directoire de la S.A. Aéroport de La Réunion Roland Garros et Ambroise Fayolle, Vice-Président de la BEI, qui ont ensuite visité les infrastructures aéroportuaires.
An increase of nearly 30 per cent on the previous year, boosting projects that help developing countries cut emissions and address climate risks. Climate financing by the world's six largest multilateral development banks (MDBs) rose to a seven-year high of US$ 35.2 billion in 2017, up 28 per cent on the previous year. The MDBs' latest joint report on climate financing indicates that US$ 27.9 billion, or 79 per cent of the 2017 total, was devoted to climate mitigation projects that aim to reduce harmful emissions and slow down global warming.
Meeting in Luxembourg today the Board of the EIB approved a total of EUR 4.4 billion of new financing for 30 projects located across Europe, Asia and Africa.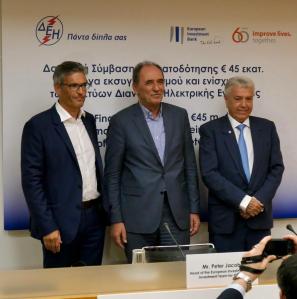 A EUR 170m electricity network investment programme by the Hellenic Electricity Distribution Network Operator (HEDNO), a subsidiary of the largest power provider in Greece, PPC, will be supported by the EIB. The EIB and PPC today signed the second loan amounting to EUR 45 million within the total loan facility of EUR 85 million. The EIB will finance 50% of the new scheme that will reinforce and modernise electricity distribution across the Greek mainland and islands and enable the national network to better supply renewable energy.
The EIB is lending Energiepark Bruck/Leitha a total of €19.3 million to carry out its "Bruckneudorf" and "Höflein West" wind farm projects. The two sites will have a joint capacity of 17 MW (6.5 MW for Bruckneudorf and10.5 MW for Höflein West). Erste Bank is also participating in the €27.3 million financing plan.
Valdis Dombrovskis, European Commission Vice-President for the Euro and Social Dialogue, today visited the innovative projects being developed at Spanish company Talgo's Madrid plant with Investment Plan for Europe support from the EIB.
---