Press corner
Welcome to the EIB's press corner. On this page you will find our latest press releases and other relevant information for the media.
---
Une délégation de la BEI, menée par Pim van Ballekom, vice-président de la BEI chargé des activités de prêt dans les Caraïbes, effectue une visite en Haïti après la nomination du nouveau gouvernement pour explorer des pistes de financement en faveur de projets d'investissement dans ce pays.
In 2016 the EIB Group provided funding totalling over EUR 83.8 billion to support investment across Europe and around the world. This will help finance projects worth around 280 billion euro. The European Investment Bank (EIB) expects 2017 to be another strong year, building on its robust performance in 2016. The Board of Governors welcomed EIB´s role in strengthening competitiveness and boosting growth and jobs and approved the bank's accounts for last year.
The EIB has invested approximately EUR 2 billion in urban development projects in the south Mediterranean region since 2011, focusing on key urban infrastructure and mobility projects. The Bank's strong commitment to support this important sector was reaffirmed during the second Union for the Mediterranean (UfM) ministerial conference held on 21st and 22nd of May 2017 in Cairo on "Sustainable urban development in the south Mediterranean countries".
La BEI a signé aujourd'hui un accord de prêt d'un montant de 3 millions d'euros avec Action pour la Coopération avec la Microentreprise (ACME) afin d'élargir l'accès aux financements pour les femmes et les emprunteurs des régions rurales, ainsi que pour la population vivant dans les zones touchées par l'ouragan Matthew. La ligne de crédit de la BEI permettra de financer jusqu'à 20.000 micro prêts en Haïti et de donner accès au crédit à des populations défavorisées dans tout le pays.
The EIB will grant financing of up to EUR 20 million to the German biopharmaceutical company Biofrontera AG. The loan agreement has been signed today in Luxemburg. EUR 10m will be available for disbursement from signature, and further installments will be disbursed based on pre-defined commercial and regulatory milestones. EIB's transaction with Biofrontera was made possible by the support of the "European Fund for Strategic Investments" (EFSI). EFSI is the central pillar of the "Investment Plan for Europe", in which EIB Group and the European Commission are strategic partners.
The Board of the EIB today approved a total of EUR 10.8 billion of new financing for 43 projects in the fields of energy, social housing, and support for business and innovation investment across Europe and beyond.
The EIB formally agreed to support China's Belt and Road initiative, at the Belt and Road Forum for International Cooperation opened by President Xi Jinping.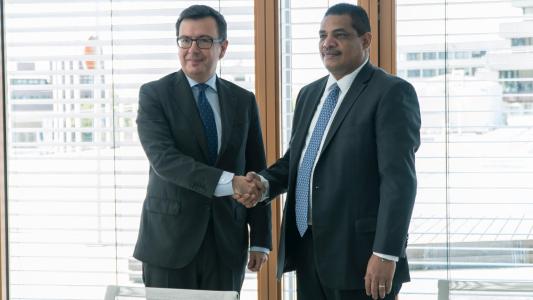 The EIB is providing USD 136 million to finance the construction of a new Bus Rapid Transit (BRT) line in Managua to run alongside Avenida de Juan Pablo II, one of the capital's main arteries.
The external positions of BIS reporting banks in Central, Eastern and South Eastern Europe (CESEE) have broadly stabilized, and post-crisis deleveraging seems to have been largely completed, while banks' strategies in the region have become more selective, according to two new reports from the Vienna Initiative. A third such report shows that levels of bad loans in the region declined in the year to mid-2016, but in several countries, they continue to have a negative impact on the local economy, and further action is needed to deal with them.
Delivering on its key objective of private sector development in Georgia, the EIB Group (EIB and EIF) is implementing two new programmes developed jointly with the European Commission. These two programmes were prepared in the context of the Association Agreement of Georgia with the EU: the DCFTA Initiative East as well as the EU Research and Innovation Programme Horizon 2020: InnovFin – EU Finance for Innovators. 

---