Press corner
Welcome to the EIB's press corner. On this page you will find our latest press releases and other relevant information for the media.
---
Exit le carrefour dangereux, priorité à la convivialité, aux piétons, cyclistes et personnes à mobilité réduite, et à un système d'éclairage plus performant,  économique et beaucoup moins énergivore. Une toute nouvelle place de village a été  inaugurée à Heer-sur-Meuse. C'est un projet smart et durable, pensé et porté par les habitants et financé par des fonds de la BEI et de Belfius.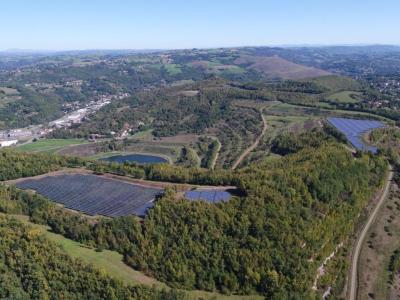 VALECO et ses partenaires inaugurent la centrale solaire de la Découverte, dont la capacité permet de couvrir la consommation d'électricité de 6 000 foyers sur la commune de Decazeville-Aubin, en région Occitanie. Financé par un consortium de banques commerciales (Caisse d'Epargne CEPAC, Crédit Agricole du Languedoc et Unifergie-Groupe Crédit Agricole) et publiques (Bpifrance), ce projet a bénéficié des apports en fonds propres de VALECO & MIROVA et de la garantie de la BEI dans le cadre du Plan Juncker.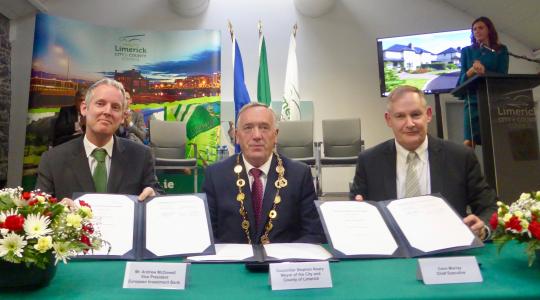 Limerick's economic resurgence took another giant step forward today as the EIB confirmed a record commitment for an urban Ireland investment programme for the city.
The EIB and the EIF – jointly the EIB Group – today signed a guarantee agreement with Ukrgasbank to support the equivalent of EUR 50 million of lending to small and medium-sized enterprises (SMEs) in Ukraine. 
The recently launched Luxembourg-EIB Climate Finance Platform, a joint initiative between the EIB and the Government of Luxembourg, is investing EUR 5 million in C Shares of the Green for Growth Fund (GGF). This first investment of the platform was announced today by the EIB at COP 23, the 2017 UN Climate Change Conference.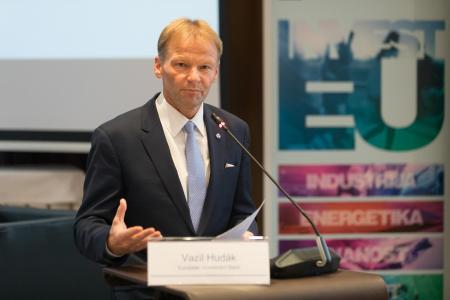 The EIB is lending EUR 51m to Slovenia's motorway company DARS to finance the introduction of an electronic tolling system for vehicles above 3.5t using the country's motorway network. This is the EIB's first direct transaction in Slovenia under the European Fund for Strategic Investments (EFSI) as part of the Investment Plan for Europe (Juncker Plan) backed by the EU budget portfolio guarantee.  
Today in Bonn, Werner Hoyer, President of the EIB – the world's largest financier of climate action – welcomed a new action plan designed to stimulate green finance to tackle global warming. Dr Hoyer was speaking at an event on the margins of the COP23 UN Climate Conference in Bonn. Convened by the United Nations' Sustainable Stock Exchanges (SSE) Initiative and hosted by the Luxembourg Green Exchange, the event featured the release of a new SSE action plan on how stock exchanges can grow green finance.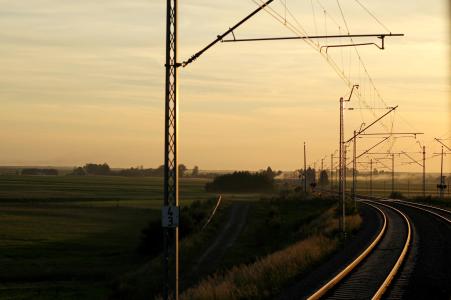 From Gdańsk to Katowice, over 1,000 kilometres of Polish railways will be modernized and upgraded with the help of a EUR 650m loan from the EIB announced today. EIB funds will help finance 15 different segments of railway infrastructure across the country, improving train speeds and passenger comfort, and saving nearly 50,000 tonnes of CO2 per year by shifting traffic from road to rail.
The EIB and Svenska Cellulosa Aktiebolaget (SCA) have signed a EUR 150m loan agreement. The EIB financing will support renewable energy and energy efficiency measures in a pulp mill in Timrå, Sweden, the regeneration and replanting of 68 000 ha of forest – almost three times the area of Stockholm – and the construction of 4 250 km of forest roads. 
The EIB has signed a EUR 102.5 million (ZMK 11,5 billion) concessional loan with the Zambian Ministry of Finance and the Lusaka Water & Sewerage Company (LWSC) in support of local sanitation infrastructure in the Zambian capital. 

---