The EIB in the circular economy
Release date: 30 May 2017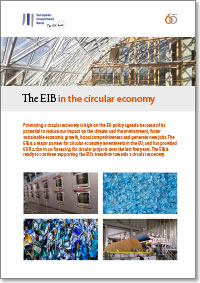 Promoting a circular economy is high on the EU policy agenda because of its potential to foster sustainable economic growth, boost competitiveness, and generate new jobs.
The EIB is a major partner for circular economy investments in the EU, and has provided about EUR 2.4bn in co-financing for circular economy projects over the last five years.
The lending needs and potential of the circular economy are clearly much larger and EIB is ready to continue supporting the EU transition towards a circular economy.
Circular economy projects reduce resource use and are eligible for EIB financing on account of their environmental and climate benefits. Projects that include innovative features for products, production processes or business models are eligible by virtue of their contribution to innovation, which is another EIB priority.
Circular projects can also be eligible for EIB financing if they are implemented by small and medium-sized companies (SMEs).
---
---

---